Heaven Below Heaven Below
by Alex Barbieri
Staff Writer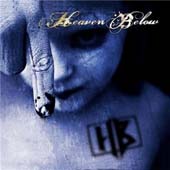 If the TV show True Blood had an official rock band, it would be Heaven Below. Born from the ashes of The Union Underground, Heaven Below is singer and songwriter Patrick Kennison's comeback statement and artistic vision of what a rock 'n f****in' roll band should be: badass look, well-crafted songs, pro musicianship and a high energy live show. And they swear by B.C. Rich guitars. Very cool.
The six-song Heaven Below CD—available on Amazon for under $10—is an EP, sort of. The band's savvy management advised HB to release an EP to help them stand out from the throng of modern rock bands vying for the public's attention. Pretty clever, considering Western culture's limited attention span. But wait, there's more—the album includes an enhanced CD with four bonus tracks and four videos.
There is still a hunger for quality original music, and Heaven Below is one of the best of the new breed. HB's sound is epic and raging, yet tight and melodic. You'll hear nods to Disturbed and Rage Against the Machine and some Maidenesque time changes. Kennison sings like his life utterly depends on it, and in his mind it just might. His ambitious use of harmonies throughout the album, coupled with his angst-ridden grit is both appealing and a little bit dangerous. Sound familiar, Mr. Brownstone?
"Dying Vicariously" offers the melodic power punch of "Plowed" by mid-'90s alt-rock band, Sponge. "When Daylight Dies," produced by Ben Moody of Evanescence fame, is simply stunning—"Bring Me To Life" with male vocals. The band has high hopes for the single on modern rock radio, and chart action would be well deserved. Covers are always a gamble, but Heaven Below take Benatar's "Heartbreaker" and make it their own. Kudos to guitarist Billson's "Slash-on-a-mountain-top" solo on "King of Nothing." "Hollywood" opens with barking Hetfield vocals, and becomes one of the most honest love/hate tributes to Tinseltown ever recorded.
With Heaven Below, we just might be privy to a very special band before they break big. Remember when people told you, "You have to check out this band called Guns 'N Roses?" Well, you have to check out this band called Heaven Below. Become a fan now, before it's considered trendy.
Watch the Heaven Below promo video on YouTube. http://www.youtube.com/user/HeavenBelowMusic
Order the Heaven Below EP on Amazon. http://www.amazon.com/Heaven-Below/dp/B0040T7FHS/ref=sr_1_6?ie=UTF8&qid=1287693921&sr=8-6
Genre: Hard Rock/Modern Metal
Band:
Patrick Kennison – Vocals/Guitar
Jesse Billson – Guitar
John Younger – Bass
Chad Clark – Drums
Track Listing:
1. Dying Vicariously
2. When Daylight Dies
3. Heartbreaker
4. King of Nothing
5. Hollywood
6. Above the Satellites
Plus enhanced CD content.
Label: Independent
Online:
http://www.facebook.com/pages/Heaven-Below/70819759934
http://www.myspace.com/heavenbelowmusic
http://www.twitter.com/heavenbelow
http://www.youtube.com/user/HeavenBelowMusic
Hardrock Haven rating: 7.5/10