Amorphis Magic and Mayhem – Tales from the Early Years
by Justin Gaines
Staff Writer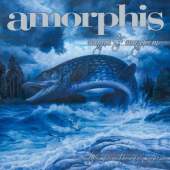 There has been a noticeable trend in recent years for established bands, especially when there is a significant lineup change, to rerecord their older material with the new lineup. In most cases, these rerecordings are totally unnecessary. The adage "if it ain't broke, don't fix it" comes to mind. Sometimes though, the rerecordings show the old songs in a totally new light (Anacrusis did this particularly well with their Hindsight collection). Now Finnish progressive death metal band Amorphis is giving it a try with their new collection Magic & Mayhem – Tales From the Early Years. Now that vocalist Tomi Joutsen has a few albums under his belt, and Amorphis has built a new sound around his distinctive vocals, it makes sense for them to revisit some of their earliest recordings.
If you've heard any of Amorphis's recent albums, you know that Joutsen is an impressive clean vocalist, but excels at the death metal growls. If you've caught them live, you know that he absolutely nails the older songs like "Black Winter Day." Hearing the band take on the heavier, more purely death metal songs from The Karelian Isthmus and Tales From the Thousand Lakes is a revelation. It's been nearly two decades since the band's earliest recordings, so obviously they're a lot better at what they do, plus they've developed a unique sound over the years. Hearing that combination of talent and progress (plus of course Joutsen's monstrous growls) lends a more elegant brutality to songs like "Vulgar Necrolatry" and "Magic & Mayhem," and is almost like hearing the songs for the first time. The pre-Elegy songs should be more than enough to convince the skeptics, and are well worth the price of admission.
Then there are the songs from Elegy. Elegy was the album where Amorphis brought in clean vocalist Pasi Koskinen and moved dramatically in a more progressive direction. Elegy is considered by many to be the band's best album and an essential metal release. It's as close to an untouchable release as you're likely to find, and tinkering with these classic songs is risky. The band did a decent enough job with them, but didn't really add anything the way they did with the earlier material. They're not bad, and they do grow on you, but they're not on par with the original versions.
The only real blunder on Magic & Mayhem is revisiting the Doors' classic "Light My Fire." Covering that song was a mistake the first time around, and is just as dreadful all these years later. Making it through that stinker a second time around takes a supreme effort of will.
Old school Amorphis fans may cringe at some of these rerecordings, but for the most part the songs on Magic & Mayhem are very well done, and provide an interesting new perspective on some classic metal songs. Fans of the later Amorphis albums should definitely enjoy hearing the new lineup revisit the classic material.
Genre: Death Metal, Progressive Metal
Band:
Tomi Joutsen (v)
Esa Holopainen (g)
Tomi Koivusaari (g)
Santeri Kallio (k)
Niclas Etelavuori (b)
Jan Rechberger (d)
Track Listing:
1. Magic & Mayhem
2. Vulgar Necrolatry
3. Into Hiding
4. Black Winter Day
5. On Rich and Poor
6. Exile of the Sons
7. The Castaway
8. Song of the Troubled
9. Sign from the North
10. Drowned Maid
11. Against Windows
12. My Kantelle
13. Light My Fire
Label: Nuclear Blast
Website: www.amorphis.net
Hardrock Haven rating: 7.5/10