Red Carpet Rats Year of the Rat
by Alex Barbieri
Staff Writer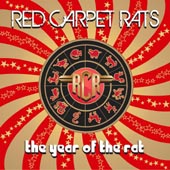 If there is a buzz in the music biz right now, it is around a Nashville pop rock foursome called the Red Carpet Rats. Two songs from their just-released album, Year of the Rat are enjoying radio rotation: "Photographic Memory" and "Going To Hell." Red Carpet Rats have also been featured in an ESPN sports channel segment, in an independent film and on the Telemundo Spanish TV channel.
Their success is well deserved, especially considering their finely-crafted and sonically appealing album was self-financed, written and produced by the band, DIY-style. So what sets Red Carpet Rats apart from the hoards of other bands vying for our attention? Actually, not that much. Red Carpet Rats sound is reminiscent, but they do what they do well — catchy, mid-tempo head-bobbing pop rock songs. They are probably on the soft side for most of the Hardrock Haven audience, but for those of you with a musical sweet tooth (and weakness for "cute guys in bands"), you're in for a treat.
RCR's look is caught between the tween appeal of The Jonas Brothers and the MILF-approved hotness of Bon Jovi. In fact, one of their press photos features them walking down an alley in leather jackets and sunglasses ala our favorite Jersey Boys. Musically, they live in this same space between kidz-bop and man-rock, with much of their sound inspired by jangly mid-'90s guitar rock. This is not a criticism, just an observation.
The high-fiving anthem "Going to Hell" begins the Year of the Rat. Great hook and harmonies, but it tries a little too hard to be "hard." One could easily hear this in the "bros night out" scene in a movie. Next tracks "Creeping In" and "Photographic Memory" displays RCR's Nashville-honed song-writing cops. Nicely done. "Skeletons" has a tasty groove and mood a bit like Daughtry's "It's Not Over." The inspiring "I'll Live" will uplift those healing from a broken heart. "Written in the Scars" offers a clever title and cutting chorus. Same with "I Wanna Be Your Tattoo," a hit single for the CW Network crowd.
Overall, Year of the Rat is a strong pop rock effort by a band with a very bright future ahead of them. There is an aire of ambition about them, and you'll find yourself wishing the RCR boys well, even if their music is not your particular cup of ale. A production note: It does lack some low end, and it would be cool to feel our chest thump a little more on the next album. But special mention should be made of the cover art on Year of the Rat. Kudos on a killer cover to the designer/ artist. It will likely be in contention for "coolest album cover of the year" award.
Genre: Hard Rock
Band:
Uni Pereira – Vocals and Guitar
McCabe – Guitar and Vocals
Doc Singles – Bass and Vocals
Tige Bucchino – Drums and Vocals
Track Listing:
1. Going To Hell
2. Creeping In
3. Photographic Memory
4. Hard Living
5. Skeletons
6. Chemical
7. I'll Live
8. Written in the Scars
9. I'm Not Chasing You
10. I Wanna Be Your Tattoo
11. Distance
Label: Chauffeur Records
Online:
http://www.redcarpetrats.com/
http://www.myspace.com/redcarpetrats
http://www.facebook.com/pages/Red-Carpet-Rats/81796898986
Hardrock Haven rating: 6.5/10