Appearance of Nothing All Gods are Gone
by Joe Mis
Staff Writer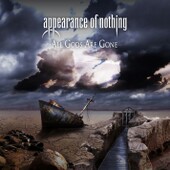 Appearance Of Nothing, and elements of everything …
All Gods Are Gone is the title of the upcoming release by Swiss progressive metallers Appearance Of Nothing. Although AoN bills themselves as progressive metal, they throw everything but the kitchen sink into this release – prog metal, prog rock, death metal, metalcore, classic rock, orchestral metal… And most surprisingly, it works! Influenced by Dream Theater, Symphony X, Saga and Vanden Plas, this quintet pulls no punches in delivering a unique metal experience in this follow up to their 2008 official debut, Wasted Time.
Appearance of Nothing was founded back in 2004 by Pat Gerber (Vocals / Guitar), Omar Cuna (Vocals / Bass), Marc Petralito (Keyboards) and Yves Lüthi (Drums). They have only made a single lineup change since, the addition of guitarist Peter Berger. This long time association shows in the band's tight and consistent performance.
Taking a page from the metalcore book, AoN has two lead vocalists, guitarist Pat Gerber and bassist Omar Cuna. One has a nice smooth voice while the other is deep and raspy, an ideal combination for their style of music. The guest vocal appearances of Dan Swanö (Edge of Sanity/ Nightingale) and Devon Graves (Psychotic Waltz/ Deadsoul Tribe) give the band four distinct vocalists who can do everything from soft and clean to screaming death – and they work well together on all tracks. The other members of the band are no slouches either, with solid teamwork on each and every track. Gerber and Berger make a fine guitar duo whether playing hard and heavy or soft and acoustic. Marc Petralito's keyboards are ever present but never dominating, and the keyboard solos are excellent. Cuna is a solid bass player who can gallop when he needs to and blend with the keys and drums when appropriate. Yves Lüthi is a very capable drummer and a good team player whether he's dishing out massive double bass or subtle cymbal fills. Appearance of Nothing plays together like a bunch of seasoned veterans, and the long well crafted songs are structured to allow every member the chance to shine.
"The Mirror's Eyes" opens the album with a big wall of sound and heavy prog metal rhythms. The upbeat chorus contrasts nicely with Dan Swanö's death metal growl, and the acoustic guitars used during the bridge are unexpected and play nicely off the double bass drumming. "2nd God" opens with some classical guitar work, and transforms into a progressive rock tune driven by the rhythm section. There are great old-school keyboard riffs and finger stretching bass lines throughout along with some radical prog style tempo changes. "Sweet Enemy" has a definite Savatage feel to it, from the great keyboard and guitar opening bars, but then becomes a lush vocal showcase. "Destination" is a very well performed progressive metal track – solid vocals, great guitars, fine drum and bass lines – easily the best track on the album.
"The Call of Eve" starts with an almost techno keyboard section, but that is quickly overwritten by a searing guitar rhythm line, some awesome bass and great drums. It almost has a Pretty Maids groove to the chorus. "…I Said Silence" features some great clean and death vocals and is just a fun song to hear. "The Rise And Fall of Nothing" wraps up the album with a moody and powerful prog rock instrumental blast – great guitars, great bass, great keys & drums.
All Gods Are Gone should appeal to fans of almost any metal genre since there is just so much of everything in it. Rather than being a hopeless mishmash, Appearance Of Nothing has created something truly unique by blending a number of diverse genres seamlessly into their own style. Great musicianship, solid songwriting and excellent production make this album one not to be missed.
Very highly recommended!
All Gods Are Gone drops on January 21, 2011 on Escape Music.
Genre: Progressive Metal
Band:
Pat Gerber (Vocals / Guitar)
Omar Cuna (Vocals / Bass)
Peter Berger (Guitar)
Marc Petralito (Keyboards)
Yves Lüthi (Drums)
Guests:
Dan Swanö (Edge of Sanity/ Nightingale) – Death Vocals on Tracks 1, 2 and 6
Devon Graves (Psychotic Waltz/ Deadsoul Tribe) – Lead Vocals on Track 3
Track Listing:
1. The Mirror's Eyes
2. 2nd God
3. Sweet Enemy
4. Destination
5. The Call of Eve
6. …I Said Silence
7. The Rise and Fall of Nothing
Label: Escape Music
Web site: http://www.appearanceofnothing.com/  http://www.myspace.com/appearanceofnothing
Hardrock Haven rating: 9/10