Jeff Wagner
Mean Deviation: Four Decades of Progressive Heavy Metal
Justin Gaines
Staff Writer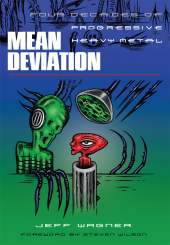 With Mean Deviation: Four Decades of Progressive Heavy Metal, former Metal Maniacs editor Jeff Wagner has penned the definitive analysis of progressive heavy metal in all its myriad forms. Starting with a look at early progressive artists like King Crimson, Black Sabbath and especially Rush, Wagner takes readers on a journey of progression that has some unexpected detours. Obviously, attention is paid to "the big three" of Fates Warning, Queensryche and Dream Theater, but equal emphasis is placed on the influential early works of Celtic Frost and Voivod. Wagner also devotes chapters to Watchtower's early "math metal," progressive thrash, innovations in the early Florida death metal scene, progression in the Swedish death metal scene, avant-garde Norwegian black metal offshoots, the Japanese progressive scene, the ProgPower and NEARfest events, and just about any kind of heavy metal where boundaries are being pushed to new extremes.
King Crimson, Black Sabbath, Rush, Fates Warning, Dream Theater, Queensryche, Celtic Frost, Voivod, Watchtower, Sieges Even, Anacrusis, Believer, Atheist, Death, Cynic, Borknagar, Arcturus, Sigh, Diablo Swing Orchestra, Therion, Pain of Salvation, Devin Townsend and Opeth are but a sampling of the bands Wagner covers in Mean Deviation, and for every band you're already familiar with, it seems like there's at least one you haven't yet discovered.
Taking a potentially controversial stand, Wagner makes it clear that there's a LOT more to progressive metal than Dream Theater worship. This is probably Mean Deviation's "line in the sand." We all know that there are scores of bands who are essentially playing music in the Dream Theater mold. Wagner makes it clear that while these bands may be playing what is known as Progressive Metal, there's very little about their music that is truly progressive. This may come as a shock to those expecting to read a book about bands like Circus Maximus, Manticora and Empty Tremor.
With a pace and style similar to Sound of the Beast: The Complete Headbanging History of Heavy Metal by Ian Christe (who edited this book), Mean Deviation is informative, enlightening and eminently readable, never getting too dry or clinical in its analysis of a genre that is by definition quite complex. Wagner's narrative as an obvious fan of the music ensures that while it is a painstakingly-researched book, it's also a labor of love and a real tribute to the artists it covers. The book includes plenty of quotes and inside information from the genre's heavyweights as well as some of its more obscure figures. It also features photos, cover art and interesting checklist-style appendices, not to mention an introduction by Porcupine Tree main-man Steven Wilson and illustrations by Voivod's Michel "Away" Langevin.
Progressive metal disciples are often seen as outsiders, even among metal fans. Mean Deviation is at once a validation of our love for this kind of unconventional music as well as a challenge to broaden our horizons even further. If you're a fan of progressive metal, Mean Deviation is your new Bible. Buy it. Read it. Then read it again, this time with a highlighter to note the bands Wagner covered that you aren't familiar with.
Website: www.mean-deviation.com
Hardrock Haven rating: 9.5/10