January 13 – 16, 2011 at Anaheim Convention Center in Anaheim, CA.
by Trevor Portz
Staff Writer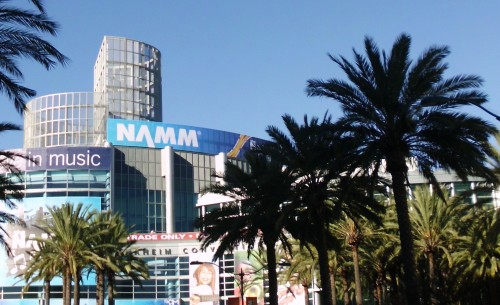 Every year, thousands of musicians, manufacturers, retailers, and well-connected fans coalesce in Anaheim, Calif., home of Disneyland, to terrify the families that have traveled from across the globe to meet Mickey. While in the area, however, it's also popular to attend NAMM, one of, if not the largest, gathering of music-industry insiders in the world. While at its heart NAMM is purely a marketing tool, it has also become the place to go to mingle with rock stars, fondle $10,000 guitars, and catch some of the most amazing known and unknown players showing off their skills and wares.
The first reaction for any first-time visitor can be summed up in three words: total sensory overload. Every instrument company, large and small, can be found represented at NAMM. From the over-the-top, sometimes multi-storied booths of Dean, Fender, Paul Reed Smith, and Marshall to the boutique displays for APC Instruments (featuring Denver's infamous Maris the Great), Lamb Drum Co., and Melodyn (makers of what are surely the finest key-tars on the market), it's unlikely any musician or musician wannabe will walk out without an urge for bank robbery or lotto luck in order to purchase even one of the many items they'll lust for in the coming months.
Though guitars, drums, and related equipment seemed to be most predominate, all styles and genres are represented, with large sections devoted to classical instruments, recording gear, and DJ equipment. Band kids reveled at the stick basses and Flying-V-inspired electric violins, and would-be engineers studied studio gear than spanned the most advanced digital to the never-quite-dead analog.
Metal and rock certainly seem to take center stage (no pun intended) despite the all-styles-represented nature of NAMM. Walking away from the show leaves one with the impression that the music industry is largely fueled by the rock side of things, despite what record sales may say. It would seem that even in an industry seemingly dominated by synthetic instruments and synthetic singers, good old-fashioned instruments still have a place to play (or be played).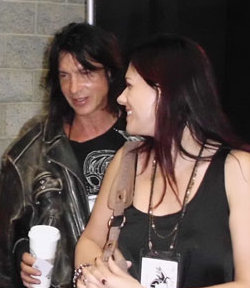 While signings and meet-and-greets were plentiful and featured many of the most prominent rock and metal royalty, the lines were often painfully long. Luckily for those with a keen eye, most of the high-profile guests could be found wandering the maze-like halls, giving those lacking patience the chance to grab an autograph, photo, or just quick word with their musical heroes. Only the most elite seemed untouchable, with Steve Vai leading the pack of unapproachables (he was surrounded by security and wasn't allowed to stop moving.) Luckily this was the exception rather than the rule, with the majority of celebs canoodling with anyone willing to call them out.
Spanning four days and what felt like millions of things to see, there's certainly no way to sum up every detail of NAMM in any reader-friendly format. With that in mind, though, here are some metallic highlights from the show:
• Def Leppard's Phil Collen demoed Agile Partners' AmpKit app for iPad, iPod, and iTouch, showing off his still rapid soloing skills, and looking the perfect example of the rocker that does not age. Though the app he was hucking seems fun for the traveling rocker, it doesn't seem overly useful in the live music world. Phil unfortunately laughed off a request for "Wasted," but powered through the main riff of "Pour Some Sugar on Me" as it was the Guitar World "Lick of the Day." He confirmed that a live Def Leppard CD is on its way in May, and will include 3 new tracks, hopefully tiding fans over until next year's full length.
• The reclusive Vinnie Vincent made an appearance, though not so much physically as in the form of a new line of handcrafted "double v" guitar. While the price tag ($9000-$17,000) may be more than even the most die-hard fans would be able—or even willing—to pay, the quality craftsmanship could not be denied, most notably on the gold-leaf plated version. Fans can only hope that Vinnie himself will resurface at some point in the near future (though even his wife, there to promote the line, seemed unsure if and when this would ever happen).
• Frank Bello revealed that even he's unsure when the new Anthrax record will be released, but did confirm that vocals are to be recorded in several weeks. This gives hope that Worship Music, on hold for several years, will follow soon thereafter.
Other fun sightings included George Lynch, Evan Stanley (Paul Stanley's son), Bruce Kulick, Tracii Guns, Gene Hoglan, Tim Yeung, Kerry King, Alex Kane, Buckethead and Bootsy Collins (a perhaps the hardest-to-miss pair), Orianthi, Dave Shankle (the ultimate tour guide), and, of course, the Energizer Bunny (apparently he keeps going, even when nobody cares anymore).
What is somewhat funny about NAMM is that while almost every aspect of music creation is displayed — instruments, recording gear, sheet music, and everything necessary to use and abuse them, there is virtually no music available. Recorded music is practically nonexistent outside of unknowns passing demos to well-known. Perhaps this is good, though, and helped to inspire those in attendance to take what they have learned and acquired and apply it to creating something new rather than simply basking in that which has already been done.
So to sum up, NAMM is basically a musician's wet dream. While exclusively for those in the industry, anyone with the desire to see what it's all about should lie, cheat, or blow their way into getting a pass to the 2012 show. If the world is officially ending later in the year, you can bet that NAMM will be well worth the journey.
NAMM Photo Gallery
Photos provided by Trevor Portz