Stryper The Covering
by Mark Allen
Staff Writer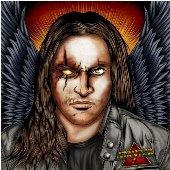 Even casual admirers of this pioneering Christian metal group can tell you that the name stands for Salvation Through Redemption Yielding Peace, Encouragement, and Righteousness. But what you may not know is that the band, originally called Roxx Regime, initially did not change its moniker for the sake of acronym accommodation; it was because Stryper rhymed with hyper. Well, hyper-excited is what fans should be now that Stryper's latest release, a collection of cover tunes plus one new original, has hit the streets.
Far from being a cheap, soulless, gimmicky cash grab, Stryper reverentially pays homage to the late '70s/early '80s rock and metal legends that inspired them, and they do so with earnest grace and class. Adopting an if-it-ain't-broke-don't-fix-it approach, the band maintains the well-known song structures, but they apply their trademark vocal harmonies and layered guitar attack so that it unmistakably sounds like Stryper, while devoutly respecting the original recordings. A little tweaking with the arrangements might have breathed fresh life into some of the staler songs, but Stryper treats each one like a sacred artifact.
Quibbling over the song selections is inevitable. As good as this album is, you may find yourself wishing the band had picked different tunes from some of the artists. For example, there are far better Ozzy offerings than "Over the Mountain." But such missteps are the exception and not the rule. For the most part, the selected songs play nicely to Stryper's strengths. Kansas' "Carry on Wayward Son," with its melodic sensibilities and harmonized chorus, is custom-built for a Stryper cover. Ditto for Kiss' "Shout it Out Loud." It's anthemic nature and gang-backing vocals make it a natural inclusion here because those qualities have defined Stryper's sound and style since its early Yellow and Black Attack days.
Another standout track is "Heaven and Hell," and if you find it odd that a Christian band would cover Black Sabbath, any doubts will be crushed like a tiny guy under Godzilla's foot when the monster production comes thundering through the speakers and Robert Sweet's powerful drumming hits you like a sack of sledgehammers. Tracks like this are why God created the "Repeat" button. Equally impressive is the full-throttle rendition of Deep Purple's "Highway Star," which rips, shreds and blazes its way toward rock 'n' roll overload like a dragster burning rubber down a strip.
The original Stryper lineup is all present and accounted for. And their tight, cohesive unity is as evident as ever; each member bringing the full force of their talents to bear on their respective components. Michael Sweet can still sing and scream with the best of them, and his high notes are as immaculate as ever. His brother Robert beats the unholy hell out of the drums, which sound big and alive and invigorating. Oz Fox has always been heartbreakingly underrated within the ranks of '80s metal guitarists, and here he puts on a sizzling display of axe-slinging skills, handling complex solos with deceptive ease while finding ways to spin his own fiery interpretations. Timothy Gaines' always-reliable bass features prominently in the mix; its punchy beefiness the perfect backdrop on which to update these classics.
The album closes with "God," a new studio track that is quintessential Stryper with all screaming guitars, soaring vocals, syncopated rhythms and bold Christian lyrics. As this project is all about pilfering from the past, it is only fitting that Stryper borrow from their own history on this song. The melody bears a striking resemblance to "More Than a Man," which appeared on their multi-platinum To Hell With the Devil masterpiece.
Back in the debauchery-drenched excess of the '80s, Stryper showed the world that religious faith and heavy metal music were not mutually exclusive. Now, nearly 30 years later, they rise up once again to show everyone how a covers album should be done. So if you're looking to hear some classic rock and metal songs that are expertly reinterpreted, Stryper has you covered.
Genre: Christian Metal
Band:
Michael Sweet (vocals)
Robert Sweet (guitars)
Oz Fox (drums)
Timothy Gaines (bass)
Track listing:
1. Set Me Free (Sweet)
2. Blackout (Scorpions)
3. Heaven and Hell (Black Sabbath)
4. Lights Out (UFO)
5. Carry on Wayward Son (Kansas)
6. Highway Star (Deep Purple)
7. Shout it Out Loud (Kiss)
8. Over the Mountain (Ozzy Osbourne)
9. The Trooper (Iron Maiden)
10. Breaking the Law (Judas Priest)
11. On Fire (Van Halen)
12. Immigrant Song (Led Zeppelin)
13. God (new studio track)
Label: Big3 Records
Online: www.stryper.com
Hardrock Haven rating: 8.6/10