Uriah Heep Into the Wild
by Justin Gaines
Staff Writer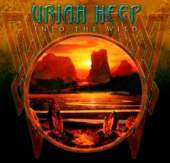 Fresh from a world tour celebrating their 40th anniversary, and now signed to Frontiers Records, UK rock legends Uriah Heep are back with a new studio album. Into the Wild is the band's 23rd studio album, and it finds the band in very good form, picking up right where 2008's Wake the Sleeper left off.
There's an almost funky vibe about Into the Wild, at least in the beginning, with the grooving "Nail On the Head." "I'm Ready" has that same energy, like the band was just jamming and having a good time and these songs were the natural result. Fans of the old school Uriah Heep sound probably won't be thrilled with those tracks, but the organ-heavy, classic sounding "Southern Star" "and "Money Talk" and the epic "Trail of Diamonds" (a haunting number that may be Into the Wild's best track) should make up for it. The rest of the album seems to tread somewhere in the middle, with some very melodic, catchy rock songs that are just a lot fun to hear. The band has been around the block enough times that they could probably knock out an album in their sleep, but it sounds like they had some fun with this one. The perennially underrated Mick Box delivers some first-rate guitar work here, and with each new album Bernie Shaw is becoming the definitive voice of Uriah Heep.
If you're already a Uriah Heep fan, you know you'll want to hear this one. Uriah Heep rarely disappoints, and Into the Wild is definitely no disappointment. This is what a modern album from a classic rock band should sound like. Plus, it's just great to see a band that's been around as long as Uriah Heep still making great rock n' roll albums and having some fun doing it.
PS – Uriah Heep is touring the US in support of Into the Wild this spring. Their live shows are not to be missed, so if you're within driving distance, you owe it to yourself to see the legends in person.
Genre: Rock
Band:
Mick Box (g) (v)
Trevor Bolder (b) (v)
Russell Gilbrook (d) (v)
Phil Lanzon (k) (v)
Bernie Shaw (v)
Track Listing:
1. Nail On the Head
2. I Can See You
3. Into the Wild
4. Money Talk
5. I'm Ready
6. Trail of Diamonds
7. Southern Star
8. Believe
9. Lost
10. T-Bird Angel
11. Kiss of Freedom
Label: Frontiers
Website: www.uriah-heep.com
Hardrock Haven rating: 8/10