LIVE! : Accept with Sabaton
by Steve Trager
Staff Writer
April 14, 2011 at Trocadero Theatre in Philadelphia, PA.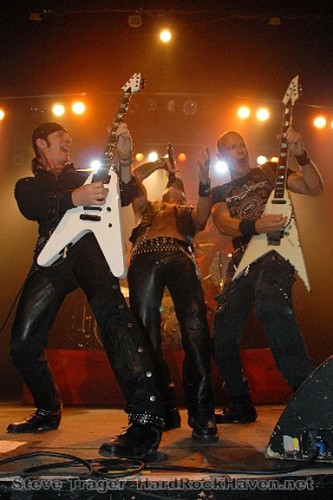 Germany's export Accept has always packed a punch with their live shows. In the '80s they rocked then; and now with a current new lineup in the fold, Accept has truly outshines once again with a stellar live show in Philadelphia during the Blood of the Nations Tour.
After more than 20 years alone, it seems like Accept has never lost touch with their fans nor has lost the depth of their music especially with a live show. The anticipation of Accept to play Philly once again truly makes it all worth while as The Trocadero embraced one hell of a metal show. While sitting through two local bands to get things underway, the stage was set for Sweden's own metal onslaught of Sabaton. Always a real treat to get a glimpse of a band who never has played on American soil before, and yes this band certainly heated up the Trocadero stage for Accept with a quick set jumping through as many songs as possible; yet still pulling no punches and giving Philly metal maniacs a true Swedish metal "in your face" welcome.
Mind you if the two local showcased bands hadn't played, Sabaton could have easily co headlined with Accept. Certainly can't always get what you want from a typical rock show but, you can truly get your metal meltdown with one of Germany's finest metal bands Accept.
After a great set by Sabaton, not only was the stage warmed up but so were the eager long awaited fans ready to embrace the new blood of Accept during their recent slaughter house live performance with some new tracks and a bolt load of cult classics spanning a musical career that has never missed a beat from day one. It is all about the music and a great live show, and Accept truly captivates the essence in that department. Seems like an eighties flashback with all the vintage flying "v" guitars swarming around the stage while Accept played just under two hours to a set list combining some new material like "Teutonic Terror" and "Bucket Full of Hate" while unleashing all the favorites Accept fans have come to expect to hear each night. As a great band all these years, Accept hasn't lost touch in stellar guitar work from Wolf Hoffman especially on "Metal Heart "and
"Up to the Limit".
While many of the songs seemingly felt like they were just dusted off the shelf for the first time with front man Mark Tornillo packing a vocal punch, he does truly display the vocal intensity which gives Accept a great musical makeover as live band. The legacy of all those great songs getting a fresh new sound live fits like a glove with Mark Tornillo adding the melodic touches that steps this band in to a new direction. Accept never sounded more revitalized on this tour then they have in years. Certainly in a small intimate setting gives any fan an up close monumental experience of the show — definitely doesn't get any better than that.
The 19 song set-list set the tone with many great moments of Wolf Hoffman letting his guitar soar through solos especially on "Princess of the Dawn", "Fast as a Shark", and "Winners and Losers". The actual breaking point of the show came the encore icon song of the evening "Balls to the Wall", mind you this epic song all on its own broke this band in the '80s' and still reigns as a power anthem for eternity. Again, Mark Tornillo steps up to the plate and gives this song a great swift kick, while we all know Mark isn't about trading places with Udo in this outfit, it's all about taking the band in a new direction and what better way than to display that in a great live show on this tour.
After seeing a great band perform all the amazing classics that has driven their musical career through countless generations, Accept still possess that melodic drive even if it's not the same lineup from years past. Still doesn't matter, fact is they still rocked Philly for the first time in more then a decade.
Accept & Sabaton Photo Gallery
Photos provided by Steve Trager