LIVE! : Volbeat, The Dammed Things & Hourcast
by Cyndi Jo
Staff Writer
April 6, 2011 at the House of Bluest in Hollywood, CA.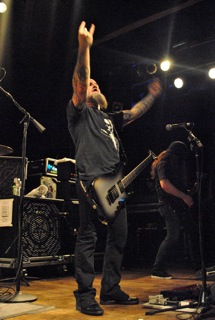 Denmark's answer to the OC metal/punk scene: Volbeat, hammered its brand of rockabilly metal into a show so incredible, Wednesday, April 6th at the House of Blues Hollywood, with The Dammed Things and Hourcast in tow.
The synthetic, polished nu-rock and radio friendly music that Boston based quartet, Hourcast delivered began a night unfortunately, quite stale. Their setlist was quite short and strongly represented last summer's Dystopia. The crowds reaction surely reflected on their much similar sound to that of Hinder, and even for a crowd like at House Of Blues: Hollywood with was quite shocking that some more than others weren't impressed with songs like "Hell or Hollywood." When their set was done, the night got intensely good because The Dammed Things were up next.
Consisting of six members from Anthrax, Every Time I Die, and yes, even Fall Out Boy, their sound was profuse at their best with all talents compressing this imperceptible melody that had the crowd raising their horns throughout their set. The HOB: Hollywood, at times doesn't have the best sound and in fact lighting, but lead singer Keith Buckley' screaming style exemplified through the spectrum of intertwining guitar riffs and incredible drum fills. Preforming most songs from their latest album Ironiclast, the excitement of Anthrax founding member; Scott Ian, left the fans wanting more,especially a surprise appearance of comedian Brain Posehn enjoying the show in the pit. All fans had the opportunity to get a copy of Ironiclast signed or a picture with the band at the merchandise booth after their set.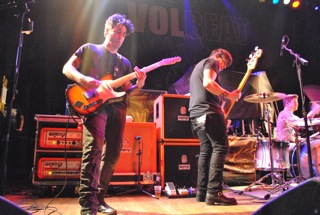 Lastly, the one band everyone was awaiting: Volbeat. Call it metal,psychobilly, rockabilly, or that one band Lars Ulrich endorsed, when Volbeat is in town, you know it's going to be a good damn show to invest in. As soon as drummer Jon Larsen, bassist Anders Kjolholm, guitarist Thomas Bredahl, and lead vocalist and guitarist Michael Poulsen took the stage with everyone chanting "Vol-Beat" they began the first lick and proved how to get the energy rolling. With the participation of everyone in the room ,including the photographers and bar tenders singing along, to songs like "We", "Fallen", "Radio Girl," and "Thank You" seemed to be the icing on the cake for the night. Johnny Cash's cover of "Folsome Prison Blues" really got the crowd into good spirits and that clearly showed as Poulsen said, "It's good to be back, Los Angeles, it's good to see you again."
Volebeat, The Dammed Things & Hourcast Photo Gallery
Photos provided by Cyndi Jo