Metallica, Megadeth, Slayer & Anthrax : The Big 4 or The Big Fail?
by Cynthia Gomez
Staff Writer
Metallica, Megadeth, Slayer & Anthrax : The Big 4 or The Big Fail?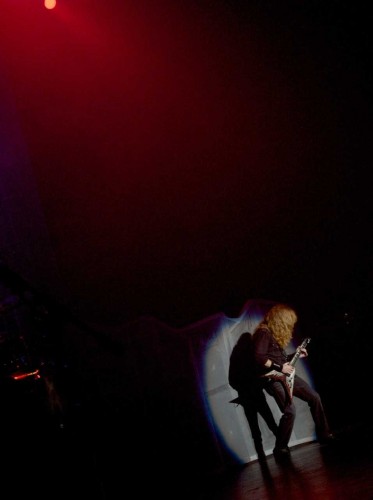 Metalhead's would do anything to see the biggest of thrash/metal bands play the same stage– pay $116 for the ticket, drive a total of 6 hours when gas prices average $4.15 a gallon, walk roughly 2 miles to the venues entrance, and even after all that spend half an hour searching for a parked car in a lot with other 500 cars with no lighting hoping it wasn't stolen.
Yes, in order to see Metallica, Slayer, Megadeth and Anthrax make history– that's what about 50,000 people had to go through Saturday in Indio, CA. For those highly devoted to the metal masses, going through all that seems pretty feasible, but for those who had to work that day or simply have a life, one question came to mind after the show, was it worth it?
Because of the 3-hour drive one had to take to get to the venue that a week prior hosted a copious amount of indie hipsters for the Coachella Festival missing Anthrax who went on roughly at 4 in the afternoon was at first the biggest discontent of the evening. Why was Anthrax first missed? Well, like mentioned before getting to the main entrance was a mission, and before anyone points the finger, who the hell starts a metal festival with one of the greatest bands at 4 pm? If, the festival was at a more reasonable venue closer to where more than 80% of people live like the Coliseum or the Rose Bowl, maybe more than 55,000 tickets would have been sold, and curfew for a Saturday wouldn't have been an issue.
Now, the music that was witnessed. Megadeth sounded like Megadeth. Technically complex yet brazenly melodic symphonies exemplified Chris Broderick only brought the crowd to sing along with "Hanger 18" and "Wake Up Dead." For the youngsters who are only familiar with their most recent work "Headcrusher" was the ultimate favorite. Ending the night with legendary "Peace Sells" funny man and leader Dave Mustaine made sure to leave a trail of his classic phrases: "You guys have been great, and we have been Megadave." Just kidding, he said Megadeth.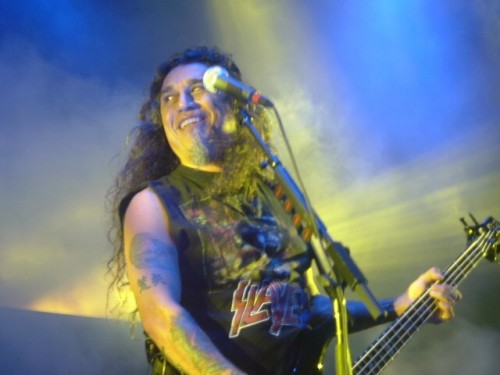 As soon as the two screens displayed red letters that read Slayer, fans were pumped. Tom Araya's health problems that prevent him from headbanging were clear as he hurried off stage and didn't quite show the energy Kerry King's and Dave Lombardo's evidently showed. Everyone screamed "War!" during "War Ensemble" which was followed by "Postmodern" and crowd favorite "Raining Blood." Tracks that set spanned for Slayer's career such as "Silent Scream," "Seasons in the Abyss," and "Dead Skin Mask" were the highlights for their 65-minute set. What was a bit strange but exciting was the appearance of guitarist Jeff Hanneman. He had no introduction or acknowledgement from other members. Gary Holt was great, but Tom Araya not saying anything to the crowd about the legend's appearance seemed odd.
So Anthrax, Megadeth, and Slayer all got a 65 minute set. Metallica, got a 2-hour set, which brought up the rhetorical question: was this festival The Big Four, or The Big Three headlining, Metallica?
Metallica, love them or hate them were the only band that clearly demonstrated the excitement that was expected. With a theatrical beginning of Ennio Morricone's "The Ecstasy of Gold" from "The Good, The Bad and The Ugly" for once in the entire evening the mellow crowd finally showed the energy that should've been there all throughout. Their set was totally unpredictable. You, know playing songs that no one has heard before like "Fade to Black," "For Whom the Bell Tolls," "Fuel," and "Master of Puppets." One of their most honorable moments was when the great Kirk Hammett foregoing solos transitioned perfectly into "Nothing Else Matters." Metallica ended that set with the unfamiliar "Enter Sandman."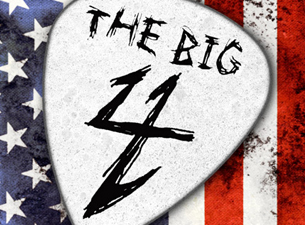 Even after waiting for so long to see all band members together perform as one, like they do on the platinum selling Big 4 DVD, disappointment still lingered on stage. Yes, watching the biggest metal bands perform Diamond Head's classic "Am I Evil?" was every metalhead's dream, but, why were most of Slayer missing throughout the entire song? Kerry King did manage to come on to the last five seconds of the song, but there is no reason why overall participation lacked.
"Am I Evil?" was the only 3-minutes The Big Four were on stage as one– perhaps the group of friends/rivals/ex-bandmates that embraced one another was only possible in Sofia, Bulgaria, or too many big heads in one bill.
Surprisingly, the crowd wanted more. So as James Hetfield said thanks because there was a curfew before 11 pm, many walked-out to a dark parking lot as they played "Seek and Destroy." Lars Ulrich claims that this is the first of Big 4 festivals in the US, in thoughts of the majority this was big enough.