LIVE! : Adler's Appetite @ Vamp'd
by Deb Rao
Staff Writer
May 7, 2011 at Vamp'd in Las Vegas, NV.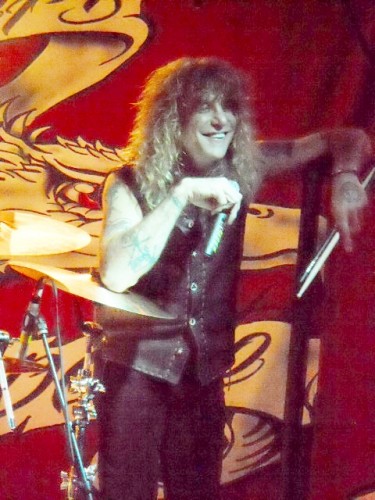 Former Guns N' Roses drummer Steven Adler and his band Adler's Appetite is getting ready to set the metal world on fire with his current U.S. Tour that made a special stop May 7 on the third night of the tour at Vamp'd in Vegas. Not only does Steven have a new lease on life but a new band line-up that Steven revealed to Hardrock Haven earlier in the day of the show which includes singer Patrick Stone on vocals, Lonnie Paul on guitar, Chip Z'Nuff on bass, and guitarist Michael Thomas.
Over the years, Steven Adler has influenced so many fans with his expertise drumming. The charismatic drummer has a rock and roll story that is truly intriguing. On May 17, Steven will release the paperback version of his memoir My Appetite For Destruction: Sex And Drugs and Guns N'Roses. Be sure to pick up a copy, as Steven tells the whole story about life in the fast lane back in the heyday of metal.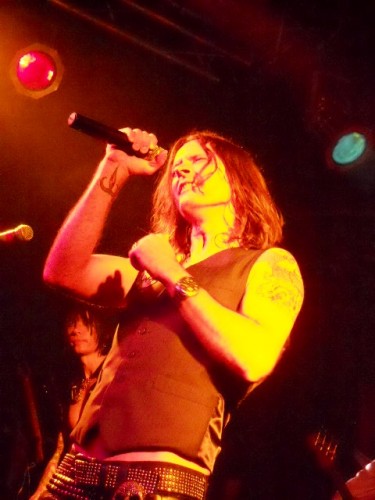 Well it is a Saturday night in Sin City, and Vamp'd formerly known as Feelgoods was gearing up for one of one of the most exciting concert this Spring, Adler's Appetite. Fans streamed into the club early, as the doors opened at 8 P.M. Adler's Appetite Appetite hit the stage around midnight for a rock and roll extravaganza of GNR hits but also included some awesome new songs in the mix. Opening with "Night Train," it did not take the fans long to rush to the front of the stage. New singer Patrick Stone that Steven Adler informed Hardrock Haven about earlier in the day and who was recommended to him by Slash really knows how to work the audience. Patrick also has a vocal style similar to Axl Rose. Guitarist Michael Thomas shredded the riffs with a fury. New guitarist Lonnie Paul did a great job and the rhythm section of bass player Chip Z'Nuff and Steven Adler roared. Steven was on top of his game and never missed a beat.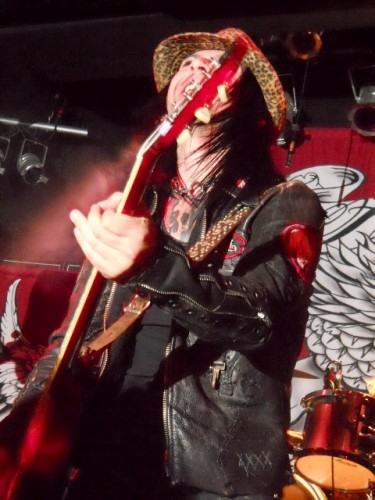 Adler's Appetite slammed through such GNR hits as "Mr. Brownstone", "Knockin On Heaven's Door", "Sweet Child Of Mine", and "Paradise City." The energy of the band was infectious. I recently saw Adler's Appetite perform in December at Feelgoods. Although that night the band very good, I have to say that tonight's performance was magical. It had that raw energy that transpires when the right band members click together as a unit.
It was great to hear many of the GNR hits that have become so timeless. But what really impressed me was Adler's Appetite new song "Alive." This tune has an '80s vibe with lots of guitars, and a GNR vibe. It really reflects the state of the band today!
The momentum of the night never exhausted. The fans could not get enough as the final encore "Welcome To The Jungle" ripped. Before the encore guitar Michael Thomas played "named this tune" on guitar. That segment of the set was pretty cool. Be sure to check out Adler's Appetite coming to a city near you! For Tour Dates visit Adler's Appetite official website. Also be sure to check out Hardrock Haven Exclusive interview with Steven Adler!