LIVE! : KC Rockfest Music Festival 2011
Warning
: extract() expects parameter 1 to be array, string given in
/home4/hrhaven/public_html/online/wp-content/plugins/nextgen-gallery/products/photocrati_nextgen/modules/router/class.routing_app.php
on line
587
Warning
: extract() expects parameter 1 to be array, string given in
/home4/hrhaven/public_html/online/wp-content/plugins/nextgen-gallery/products/photocrati_nextgen/modules/router/class.routing_app.php
on line
587
Warning
: extract() expects parameter 1 to be array, string given in
/home4/hrhaven/public_html/online/wp-content/plugins/nextgen-gallery/products/photocrati_nextgen/modules/router/class.routing_app.php
on line
587
Warning
: extract() expects parameter 1 to be array, string given in
/home4/hrhaven/public_html/online/wp-content/plugins/nextgen-gallery/products/photocrati_nextgen/modules/router/class.routing_app.php
on line
587
Warning
: extract() expects parameter 1 to be array, string given in
/home4/hrhaven/public_html/online/wp-content/plugins/nextgen-gallery/products/photocrati_nextgen/modules/router/class.routing_app.php
on line
587
Warning
: extract() expects parameter 1 to be array, string given in
/home4/hrhaven/public_html/online/wp-content/plugins/nextgen-gallery/products/photocrati_nextgen/modules/router/class.routing_app.php
on line
587
Warning
: extract() expects parameter 1 to be array, string given in
/home4/hrhaven/public_html/online/wp-content/plugins/nextgen-gallery/products/photocrati_nextgen/modules/router/class.routing_app.php
on line
587
Warning
: extract() expects parameter 1 to be array, string given in
/home4/hrhaven/public_html/online/wp-content/plugins/nextgen-gallery/products/photocrati_nextgen/modules/router/class.routing_app.php
on line
587
Warning
: extract() expects parameter 1 to be array, string given in
/home4/hrhaven/public_html/online/wp-content/plugins/nextgen-gallery/products/photocrati_nextgen/modules/router/class.routing_app.php
on line
587
Warning
: extract() expects parameter 1 to be array, string given in
/home4/hrhaven/public_html/online/wp-content/plugins/nextgen-gallery/products/photocrati_nextgen/modules/router/class.routing_app.php
on line
587
Warning
: extract() expects parameter 1 to be array, string given in
/home4/hrhaven/public_html/online/wp-content/plugins/nextgen-gallery/products/photocrati_nextgen/modules/router/class.routing_app.php
on line
587
Warning
: extract() expects parameter 1 to be array, string given in
/home4/hrhaven/public_html/online/wp-content/plugins/nextgen-gallery/products/photocrati_nextgen/modules/router/class.routing_app.php
on line
587
by Shawna McHenry Luehring & John Kindred
Staff Writer
Saturday, May 14th at Liberty Memorial in Kansas City, MO.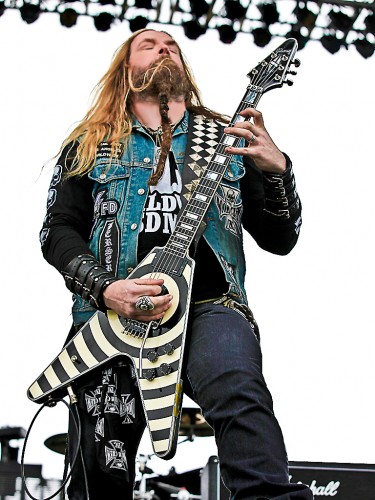 Kansas City's Rockfest kicked of its annual metal salute with Zakk Wylde performing the "National Anthem" with an armed forces color guard to more than 50,000 crazed fans. This year's event was welcomed by a cold front instead of an onslaught of rain. After last year's "Mudfest" debacle, local city leaders were fired up and demanded ending the use of Penn Valley Park as the stomping grounds for Rockfest.
Thankfully for fans, AEG, the concert promoter, paid to repair the damage caused by the 2010 event. Their efforts included putting down sod on the 14 acres of damage caused by the rain and the festival goers, who trampled down grass, which created a muddy mess and troublesome trash clean up. AEG and 98.9 the Rock have put in place safeguards to keep the event as clean and safe as possible, including additional trash cans, better placement of port-o-potties, additional security and added fencing.
As always, Rockfest is hyped as the Nation's Largest Single-Day Music Festival and a concert event with reasonably priced food and beverages. Although this year's crowd was not a sellout, there were plenty of fans on hand for the festivities.
This year's lineup featured two band stages. Monster Energy sponsored the main stage, which featured headliners Disturbed, Stone Sour, Papa Roach, Alter Bridge, Sevendust, Hinder and Halestorm. The second stage was sponsored by Jose Cuervo and featured Black Label Society, All That Remains, 10 Years, Redline Chemistry, Crossfade, Art of Dying, New Medicine and Evalyn Awake.
The crowd seemed to relish in its patriotic side this year as Americans flags were visible throughout the crowd. Mardi gras beads where tossed out to those willing to show their "wares" to onlookers. Besides the music, Rock radio personality, "Moose," officiated a wedding ceremony of about 20 couples or more. Turning back to the stages, the crowd was entertained by pornstar Ron Jeremy aka "The Hedgehog," and Moonlight Bunny Ranch owner Dennis Hof, and his lovely sidekick, Bunny Love, made an appearance.
With the exception of 15 minutes of warm, bright sunshine for Papa Roach's performance of "Burn" (pretty ironic), fans spent the cold, gray and windy day enjoying the metal mayhem.

Monster Energy Drink Main Stage:
Halestorm 1:30pm
Hinder 2:40pm
Sevendust 3:55pm
Alter Bridge 5:10pm
Papa Roach 6:30pm
Stone Sour 8:00pm
Disturbed 9:40pm

Jose Cuervo Drink Main Stage:
Evalyn Awake 12:00pm
New Medicine 1:00pm
Art of Dying 2:10pm
Crossfade 3:25pm
Redline Chemistry 4:40pm
10 Years 6:00pm
All That Remains 7:30
Black Label Society 9:00pm
KC Rockfest Music Festival 2011 Photo Gallery
Photos appear courtesy of Shawna McHenry Luehring