Shraphead : Blind & Seduced
by Marc C.
Staff Writer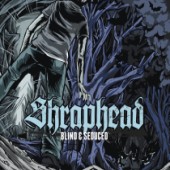 After seven years in the making, Shraphead's Blind & Seduced is firing on all cylinders right out of the gate.
Formed in August 2004 in Eidskog, Norway, founding members Mohamed Dyani and William Fossheim, later joined by singer Jo Johnsrud and in 2007 guitarist Petter Murud, began the building process for what would come to be one of the best debut albums of any band this writer has ever heard.
But just who is Shraphead, you ask?
Think early melody of Megadeth meets the aggressiveness of Testament and throw in a heaping tablespoon of the smoothest of today's heavy melodic vocals, and there you have it. It's finally a band that gets it in that you can mix aggressive heavy music with clean vocals. From start to finish, this album simply rocks and reaffirms the faith that aggressive bands still exist without the cringe factor of the "cookie-monster" vocals stepping all over the music.
While it's no surprise that, after seven years, the musicianship is accomplished and tight as a drum; it's the song structuring that is a welcoming listen. The song and lyric structures blend effortlessly in a way that should make most new bands embarrassed. From the opening track aptly titled "Welcome" straight through to the final offering "Ageless," listeners will find themselves nodding their heads in not only metal banging unison but in overall approval.
Kudos go to Christian Liljan, Fredrik Ryberg and Daniel Bergstrand for mixing and mastering this album to near perfection. Anything less certainly would have detracted from just how talented this band is. Potential not withstanding, Shraphead is destined for great things and is a very welcomed surprise in what otherwise has become a mundane genre.
Genre: Metal / Rock / Thrash
Band:
Jo Johnsrud – Vocals, Guitar
Nils-Christer Stenmyren – Guitar
William Fossheim – Bass, Vocals
Mohamed Dyani – Drums
Track Listing:
1. Welcome
2. Stolen Trust
3. Merry Go Round
4. Blind & Seduced
5. Just Another Fool Who…
6. The Hundred
7. The Life, The Path To Choose
8. Nothingness
9. Revelation
10. The Bond
11. Iconoclast
12. Evilberry Jam
13. Ageless
Label: Metalville
Websites:
www.shraphead.net
www.myspace.com/shraphead
www.twitter.com/shraphead
www.shraphead.blogg.no
Hardrock Haven rating: 10/10