LIVE! | 100.9 Krock Dysfunctional Family BBQ
by Sara Mccarthy
Staff Writer
May 28, 2011 at Chevrolet Court in the New York State Fairgrounds Chevy Court in Syracuse, N.Y.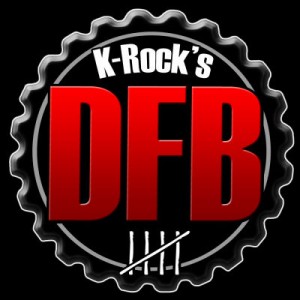 Every Memorial Day weekend in Syracuse, N.Y., Galaxy Communication's 100.9 Krock sponsors an all-day music event, the Dysfunctional Family BBQ, which has become the launching point for the area's summer concert season. Krock has a reputation for organizing well-run concerts that attract the biggest names in the rock business and hundreds of loyal fans. Last month's show was no exception. Eight bands filled the day's schedule, including local bands Caustic Method and Elephant Mountain and national artists 10 Years and Trapt.
Local rockers, Caustic Method, which were a last-minute addition after Hourcast was unable to make the show in time, started the day's festivities. Even with a small crowd of about 300 to 400 people, they blasted onto stage and played their well-known song "Left to Die Alone." As a whole, they have a very strong stage presence, and lead singer Matt Caustic is a lot of fun to see perform. The band debuted two new tracks, "Born Again" and "Barely Alive and Breathing," and they closed out their set with the fan favorite "Twelve Step Suicide." They filled the fairgrounds with their heavy grinding sound that you feel deep inside that gets your blood pumping. A great band to see perform, Caustic Method lived up to its reputation, played a good set and got the slowly increasing crowd ready for Elephant Mountain to take over.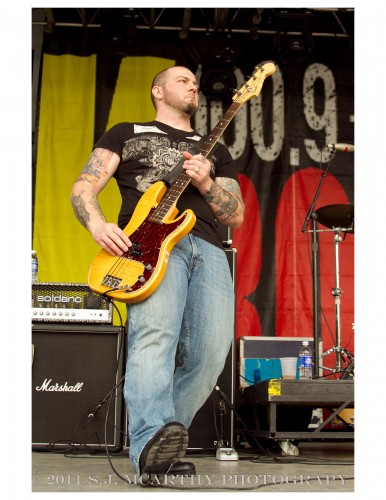 Elephant Mountain, formed in 2009 by former members of Brand New Sin, Joe Altier (vocals) and Brian Azzato (guitar), released its first album "The Last Days of Planet Earth" in September 2010. Members took the stage and opened with the album's lead track "North of Nowhere" Joe Altier, who has a very strong local following, hammered out his vocals with all of the energy and talent for which he is known. The group also played a new song, "Loved Ya Anyway," to which the crowd was very responsive. Elephant Mountain is a band with its own sound, which is a unique combination of metal, soul and southern rock that easily can reach a broad base of fans. This band will be making tracks outside of the Syracuse area sooner rather than later.
Set List:
North of Nowhere
Out of My Head
Words With Friends
Loved Ya Anyway
I'm Done
Next up was Drive A, the first national act of the day. This was the first time this relatively young band from California played in the Syracuse area. While they do know how to work the crowd and keep its attention, a lack of maturity was apparent. Their opening track was "Young Cunts," a title that was offensive to many in the crowd. For a new band, their sound was musically strong, if not fresh and innovative. Frontman/guitarist Bruno Mascolo's vocals were inconsistent, but given the fact that he is young and they have been touring just about non-stop for two years, surely this will continue to improve. Just when I was beginning to look past Mascolo's maturity issues, he asked the crowd to "turn to the person on your right and kick them in the balls; if that doesn't start a riot I'm not sure what will." Quite a few inebriated people in the crowd took him up on this suggestion and caused numerous fights. Mascolo incited the crowd and left a bad taste in my mouth. I would give this young group a few more years in the business to see how they grow as musicians. The talent is there; it just needs to develop.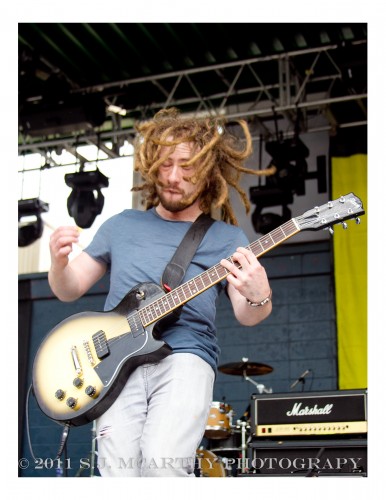 Kopek, a group hailing from Ireland, was next on the line-up and a very welcomed one. This group of guys played a phenomenal set and showed that they are a very tight group. The band is fun to watch, and their talent is obvious. Their sound was strong and clean. Vocalist Daniel Jordan showed his vocal abilities and sounded eerily similar to their album "White Collar Lies." When members played their current single "Cocaine Chest Pains," the crowd, which was already jumping and dancing, went nuts and started singing along. This band puts a new edge on rock and demonstrates the variety in which they could dish it out to us.
Set List:
Fever
Love Sick Blues
The Easy Way
White Collar Lies
Love is Dead
Cocaine Chest Pains
Bring it on Home
D.R.U.G.S – Destroy Rebuild Until God Shows has a sound likened to post-hardcore with a polished edge, and this band entertained. Bassist Adam Russell was an absolute blast to see perform. This dude has so much energy, and he never stopped moving from one end of the stage to the other. He was one of my favorite musicians who I photographed during the event. Vocalist Craig Owens had our attention from the very minute he stepped on stage and held it hostage with his onstage antics and powerful screams that backup vocalist Nick Owens answered with his own. These guys were a lot of fun to watch because they put their heart and soul into their performance. Their set started with "The Only Thing You Talk About," which the crowd loved and expressed this by bigger mosh pits and more crowd surfers. When their current single "Sex Life" was played, the crowd went nuts, and the already insane energy level increased as they started surging towards the stage. Needless to say, the crowd was happy with the performance, and the band seemed to be as well.
Set List:
The Only Thing You Talk About
Stop Reading, Start Doing Pushups
My Swagger Has a First Name
Laminated E.T. Animal
Sex Life
Mr. Owl Ate My Metal Worm
If You Think This Song is About You, It Probably Is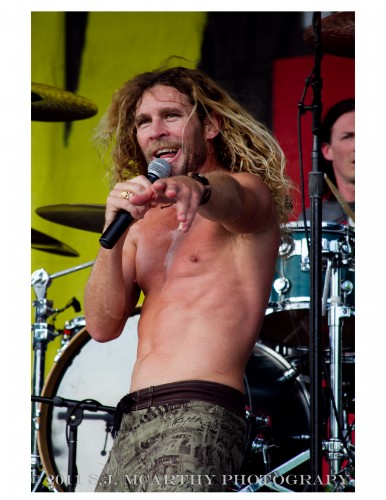 One of the most anticipated acts of the day, Boy Hits Car, was the next band to take the stage. This independent quartet from California drove more than 40 hours to arrive in Syracuse in time for the show. Boy Hits Car is a Krock alumnus, having played the DFB in 2009, as well as two Krockathons (THE concert event of the year in Syracuse). At Krockathon 10 in 2005, frontman Craig Rondell climbed to the top of the amps and stage dove sixty-seven feet into the crowd. This band has gained legendary status, and the younger fans who were unable to witness the ultimate stage dive come each time, hoping to see a repeat performance. Krock has since forbidden stage diving.
As Boy Hits Car took the stage, the audience was packed, fired up and ready to experience their passion for music. The band's performance was stellar. Opening with "Rebirth," these guys tore up the stage. Taking advantage of an extremely receptive crowd, tracks off of their latest release Stealing Fire were offered up. At one point, Rondell spotted a boy about 6 or 7 years old in the crowd who was sporting a pink Mohawk. Rondell had security get him out and up on stage. Perched on top of Rondell's shoulders, the young fan was able to take in the crazy site of thousands of people who were cheering just for him. For the reminder of the day, the pink-mohawked boy was a VIP and had a stage side seat.
The crowd absolutely erupted when "Man Without Skin" was played. During "Lovefurypassionenergy," Rondell did a running front flip off the stage into the crowd, and did a little crowd surfing. Back up on stage, the band performed "Benekai" and ended their show with a "New Noise" by Refused. Best of all, Rondell felt compelled to give us one more front flip into the crowd and started a mosh pit. If you haven't had the opportunity to see Boy Hits Car, you should do everything in your power to make it happen. You truly are truly missing out on an amazing band that loves its fans and loves playing for us all.
Set List:
The Rebirth
Move With Me
As I Watch the Sun Fuck the Ocean
Lovecore
One Kiss Away
Man Without Skin
Lovefurypassionenergy
I'm a Cloud
Escape the World
Beneki
New Noise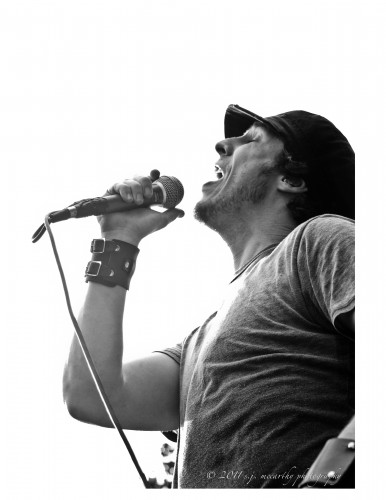 10 Years was next to take the stage, and this being my first opportunity to see them perform, I was not disappointed. Southern boys from Tennessee, 10 Years was finishing up a two-month trek to support its new album Feeding the Wolves. These guys played their hearts out, and I am sure gained a lot of new fans by the end of their set. Opening with "Now is the Time (Ravenous)" off of their new album, they followed with "At a Loss" and "Empires." Musically, the band was perfect and, at times, sounded exactly like its studio tracks. It is always nice when I experience this because it reaffirms why I love music so much. Singer Jesse Hasek's vocals were crisp, clear and powerful. During an extended version of "Shoot it Out," he decided he also was in the mood to crowd surf, much to the crowd's delight. When they broke into the opening chords of "Wasteland," the already crazy crowd freaked, and you literally could feel the energy pouring off of them towards the stage as they sang along with the lyrics. This band absolutely killed onstage, and I will be catching them again as soon as I can.
10 Years Set List:
Now is the Time (Ravenous)
At a Loss
Empires
Beautiful
The Autumn Effect
The Wicked Ones
Fade Into (The Ocean)
Paralyzing Kings
Fix Me
Wasteland
Shoot it Out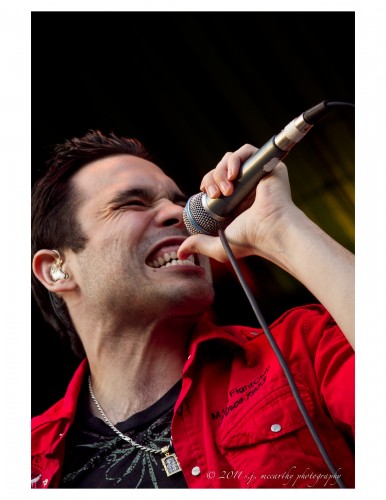 Headlining the DFB was Trapt, a favorite of mine. While some people might say that they are a studio band, I strongly disagree. Having seen them twice in the past, with years in between the shows, I can say they are a solid live band. Starting off with "Sound Off," the band was tight musically and vocally. The crowd was totally into them and was singing along. Guitarist Rob Torres was on fire and obviously was having a good time, while interacting with us photographers up front. When the drum and bass-heavy opening of "Still Frame" started, the crowd screamed their happiness. Vocalist Chris Brown was spot on with his lyrics. "Overloaded" from their new album No Apologies was followed by "Who's Going Home With You Tonight," which was another crowd favorite, and fans sang right along with Brown. The band played quite a few tracks from their new release, including "Drama Queen," which I liked it. "Stand Up" brought an increased amount of crowd surfers to the front and even more singing from the crowd. The band closed its set with "Headstrong," which really threw them into the realm of rock stars. Although it was an awesome show, I wish they would have played "Cover Up," a favorite of mine from Only Through The Pain. Regardless, Trapt is a serious band that knows how to put on a live show, kicked ass while doing it and closed out the DFB with a roar.
Trapt Set List:
Sound Off
Still Frame
Overloaded
Who's Going Home With You Tonight?
End of My Rope
Beautiful Scar
The Game
Get Up
Stranger in the Mirror
Drama Queen
Stand Up
Disconnected (Out of Touch)
Headstrong
2011 Rock on the Range Photo Gallery
Photos appear courtesy of Sara Mccarthy