Behemoth | Abyssus Abyssum Invocat
by Cyndi Jo
Staff Writer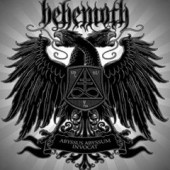 Polish blackened death metal pioneers Behemoth's compilation collection of their two EPs — 03's Conjuration and 05's Slaves Shall Serve — is a collection suited better for its artwork and nothing else.
The double-disc Abyssus Abyssum Invocat includes liner notes from front-man Nergal, a complete expanded repackaging, new artwork, and of course newly remastered tracks, live songs and some interesting covers.
Escaping the uber-underground black metal and transitioning into a more technical approach, this compilation features seven studio tracks, including Nine Inch Nail's "Wish" and Danzig 's "Until You Call on the Dark," and 11 recorded live tracks. Although, overall, the album is underwhelming, "Conjuration Ov Sleep Daemons" demonstrates what fans love most of these black metal monsters — brutal riffs that are accompanied by grueling drums and Nergal's distinguished vocals. The raw energy transmitted through this song is a definite bonus. Behemoth's rendition of "Wish" is at best a heavier version of the song with only an intense ending guitar solo to spice it up — not that impressive or innovative.
The amazingly artistic alluring packaging is the only plus. A fan's best bet music wise is spending money on their latest DVD, Evangelia Heretika, while awaiting their upcoming, anticipating release, in hopes of Nergal's better health. (The lead singer is recovering from Leukemia.)
Band:
Nergal (v)
Inferno (d)
Orion (b)
Seth (g)
Genre: Black Metal / Death Metal
Track Listing:
Conjuration
1. Conjuration Of Sleep Daemons
2. Wish
3. Welcome To Hell
4. Christians To The Lions (Live)
5. Decade Of Therion (Live)
6. From The Pagan Vastlands (Live)
7. Antichristian Phenomenon (Live)
8. Lam (Live)
9. Satan's Sword (I Have Become) (Live)
10.Chant For Eskaton 2000 (Live)
Slaves Shall Serve
1. Slaves Shall Serve
2. Entering The Pylon Of Light
3. Penetration
4. Until You Call On The Dark
5. Demigod (Live)
6. Slaves Shall Serve (Live)
7. Lam (Live)
8. As Above So Below (Live)
Label: Century Media
Web site: behemoth.pl
Hardrock Haven rating: 7/10