Tribute to Jani Lane of Warrant
A Tribute to Jani Lane
by Deb Rao
Staff Writer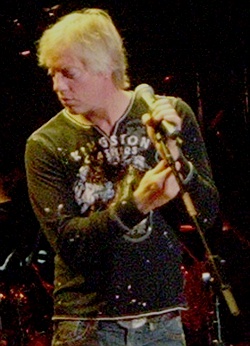 Jani Lane former lead vocalist for the multi-platinum rock band Warrant passed away on August 11, 2011. Hardrock Haven would like to offer their condolences to Jani's family and former band mates in Warrant. At this time, we would like to revisit the past and pay Tribute to Jani with an interview that was conducted in 2006.
Jani Lane, the voice of Warrant is best known for his exceptional power ballads that launched Warrant on to the top of the music charts which include, "I Saw Red" and "Heaven." During the heyday of MTV, the video of "Cherry Pie" featuring blond bombshell Bobbie Brown was one of the most popular videos to appear on MTV.
With a style all of his own, and unique flair for writing catchy pop hits, I had the honor of speaking with Jani Lane regarding is solo album Back Down To One in 2006 and recent Metal Mania Stripped Tour that took place in 2005. The phone interview took place while he was on tour in Long Island or as Jani said Long Guyland! I can remember he said was hoping to play some golf after the interview. It is hard to believe such a vital force to emerge out of the '80s music genre is now gone but not forgotten. His music will live on forever.
Ladies and Gentleman sit back and enjoy a stroll down memory lane, when Metal ruled the world, as Hardrock Haven pays tribute to singer songwriter Jani Lane in this 2006 interview as Jani discusses his early musical career, his rise to fame as the front man of Warrant, and the music industry today. The '80s were a genre that knew no boundaries, full of excess and fantasies larger than life. Jani surely lived life to the fullest and his advice to aspiring musicians was, "Buckle up, strap yourself in, and get ready for the ride."
2006 Interview:
Hardrock Haven: Jani, How are you? Let's start out by talking about your new album, Back Down To One on Sidewinder Music. Actually it was released in 2003 in Europe, how does this new version differ from the CD that was released in Europe a few years ago?
Jani Lane: Actually, it was an eight-song release that I was selling at shows, and the European release was eleven songs. I just never found a label that I felt comfortable releasing it on. Finally that worked out with Sidewinder and Immortal.
Hardrock Haven: Jani, I really enjoyed the new CD, it has a really modern sound to it. What type of sound were you aiming for on this new CD?
Jani Lane: Thank you. Actually this is going back to my original roots that were kind of OC (Orange County) pop punk vibe. Kerri Kelli really helped out a lot. He is playing guitar for Alice Cooper right now.
Hardrock Haven: Jani, you are known for your powerful ballads. On your new CD, I really enjoyed the song "Twilight." It has some really intense lyrics. Tell me about the approach you took for the songwriting on your new album. Are all the songs written about what was going on in your life at the time?
Jani Lane: I never want to pinpoint one person that I wrote a song about, but "Twilight" probably deals a little bit about my first marriage.
Hardrock Haven: On Back Down To One you wrote a lot of the songs with Kerri Kelli? What was it like working with him? He is an awesome guitarist; his playing really compliments your vocal style.
Jani Lane: Oh yeah, Kerry is an awesome guitarist. Actually I am working on a new on a new project with him and Bobby Blotzer of Ratt.
Hardrock Haven: How did you hook up with Kerri Kelli?
Jani Lane: Yeah know what, it is kind of like; I've known him from the scene. Out of the blue, we were talking one night at the Rainbow I said, I like to write you, like to write, let's get together.
Hardrock Haven: What is your favorite tune off of the new CD?
Jani Lane: I like "Funny," it is kind of sarcastic.
Hardrock Haven: When you went into the studio, did you have the idea for this album to be totally different from Warrant? I think you succeeded in producing a new modern sound that goes back to your early roots.
Jani Lane: Well to be totally different from Warrant would be like being totally different from me, so that is kind of a fine line. I just wanted the record to have it's own feel. My thing is when you play it from song one to song eleven hopefully it creates a vibe.
Hardrock Haven: Yes, the new album is great. You are currently on the road touring. Tell us about your new band and your new guitarist Dario Lorina.
Jani Lane: His name is Dario Lorina. He is a guitar prodigy. He is sixteen years old out of Vegas. He is amazing.
Hardrock Haven: How did you hook up with Dario?
Jani Lane: He kind of contacted me first. We sort of my-spaced each other.
Hardrock Haven: How do East Coast audiences differ from playing on the West Coast? I know Long Island still has a great '80s metal audience.
Jani Lane: East Coast audiences are really up front with you. They either like you or don't like you. West Coast audiences are a little more aloof. It is hard to tell what is going on with them sometimes. That is horrible to say, but it is true. (Laughter).
Hardrock Haven: Were you ever approached by Warrant for a re-union? With the Motley Crue re-union going so well, there seems to be a great demand for '80s music.
Jani Lane: I never say never. There is a possibility; we might do some kind of re-union thing down the road.
Hardrock Haven: I recently saw you perform in Hartford last year on the Metal Mania Stripped Across America Tour. All the fans had a great time singing along to all of the '80s anthems. Did you have a good time on that tour? I know it did very well. There seems to be a great demand for '80s music again.
Jani Lane: Yeah, I had a good time. The latter part of that tour was not as fun for me. The Metal Mania stuff is really cool, I like that acoustic thing. I have always written everything on acoustic guitar.
Hardrock Haven: Jani, You have so many hit power ballads. You also are on the Metal Mania Stripped Volume 2: The Anthems. Why did you choose "Cherry Pie" over one of your ballads?
Jani Lane: It is really hard for me to discern between a ballad and not a ballad, because I can pretty much turn any of my songs into a ballad, if I wanted to. I don't know, I have actually been told I don't write good rock songs, but I write good ballads. That is weird.
Hardrock Haven: Where was the Metal Mania Stripped DVD recorded?
Jani Lane: We did in Hollywood at the Key Club that was February of last year. We also did a show at the Myth on Halloween on this year.
Hardrock Haven: Why do you think the '80s ballads and anthems have remained so timeless? We have the Poison/Cinderella Tour going on this summer. It seems like that is a re-resurgence of '80s music going on. How do you feel about '80s music making a big comeback this year?
Jani Lane: Well I think anything that makes a splash or gets people's attention eventually what goes around comes around. Eventually, you come back to things that feel comfortable. '80s rock was kind of fun. It was comfortable, good party rock.
Hardrock Haven: Yes it was. How do you think the music scene has changed since the '80s?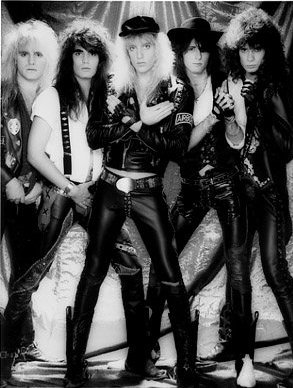 Jani Lane: Well I think it has changed because labels are competing with the Internet. I think bands now are getting signed for a song as exposed to sign for a career. It is unfortunate. I would love to see labels being more into the act and sign them more for a down the road kind of respective. It seems to be they are signing them for a song.
Hardrock Haven: Yes, that is so true. There are so many one hit wonders out there today in music. Jani, most people don't know it but you actually started out as a drummer. What made you make the move from playing drums to fronting a band?
Jani Lane: Yes, I played drums for years. To be honest, I had to sell my drums to get from Florida to L.A. So when I got to LA, they said you have blond hair you are the singer.
Hardrock Haven: That is awesome. Best decision you ever made. Now you recently appeared on the Celebrity Fitness Show. Was it unnerving for you to have cameras in your face 24/7?
Jani Lane: It was everything, you could imagine. It was unnerving, it was weird, it was fun, and it was exciting. Just dealing with the cast everyday was interesting.
Hardrock Haven: Jani, You achieved success early on with Warrant. You went from playing clubs to headlining arenas in such a short period of time. Tell me about adjusting to the new rock and roll lifestyle. Was it hard going from playing clubs to super star rock status?
Jani Lane: I have always said, when you play an arena it is kind of like playing in a basketball gymnasium. It doesn't sound very good. I think the sound is always better in a club or theater that kind of vibe. But of course ego wise you want to play in front of as many people as possible. I think the best shows are clubs and theaters. Making the transition is a stage, it is a spotlight.
Hardrock Haven: Jani, I have seen you performed many times in the past. I have noticed you have great showmanship on stage. You really love to participate with the audience. On the recent Metal Mania Stripped tour, you got all of the fans to sing along to your songs. How important is it for you to interact with the audience onstage like that?
Hardrock Haven: It is very important. I think you have to click with the crowd, in order to make it a fun night with everyone. For me I have been onstage a million times so I kind of try and make it fun for myself as well as the crowd. A lot of that acting is just trying to make the night interesting for me as well at the people who have come to see the show.
Hardrock Haven: Jani, Let's talk about your tour. What can the fans expect to see, what new songs will you be playing?
Jani Lane: We are going to do everything. We are going to do Warrant stuff, stuff form the solo record. We will do a few covers. Also there is a song I wrote called "Serial Killer," that we will do from the Angel City Outlaws, in a project that I am in with Bobby Blotzer from Ratt.
Hardrock Haven: What has the highlight of your career been so far?
Jani Lane: I would say, Neil Diamond saying you (I) sang really good.
Hardrock Haven: You mentioned earlier that you are going to be recording with Bobby Blotzer soon and Kerri Kelli. Any plans to release an album with them?
Jani Lane: Yes, we start recording in June, and hopefully we will have that out by the fall.
Hardrock Haven: What about your Jabberwocky project? Any news on that?
Jani Lane: I am still looking for the right place to release that. There is a ton of songs there.
Hardrock Haven: Jani, Do you have any advice for aspiring musicians out there trying to get started in the business?
Jani Lane: Buckle up, strap yourself in, and get ready for the ride.
Hardrock Haven: Jani, Now what can the fans expect to see from Jani Lane in 2006?
Jani Lane: A lot of new music. Mostly writing working on various projects, hopefully a script or two.
Hardrock Haven: Great, so you want to be in the movies?
Jani Lane: Yes, I am going to endeavor.
Discography: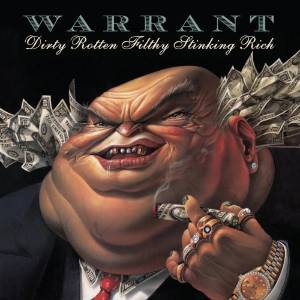 With Warrant
1989 Dirty Rotten Filthy Stinking Rich
1990 Cherry Pie
1992 Dog Eat Dog
1995 Ultraphobic
1996 Belly to Belly
1997 Warrant Live 86-97
1999 Greatest & Latest (New versions)
2001 Under the Influence
Solo
2002 Back Down to One
With Saints of the Underground
2008 Love the Sin, Hate the Sinner
Other Work
2000 Leppardmania- A tribute to Def Leppard: "Photograph"
2005 Hell Bent Forever – A tribute to Judas Priest: "Electric Eye"
2007 Monster Ballads Xmas: "Have Yourself a Merry Little Christmas"
2008 Led Box – The Ultimate Led Zeppelin Tribute: "The Ocean"
2010 Siam Shade Tribute: "1/3 no Junjou na Kanjou"