Mastodon | The Hunter
by Alissa Ordabai
Staff Writer –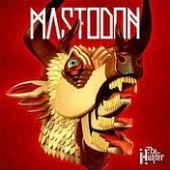 An eclectic, yet solidly coherent album with tasty chops, great melodies, and – most importantly – variety, Mastodon's fifth album is their most ambitious release to date. Not only it covers a vastly expanded stylistic terrain, but manages to come up with a meaningful message in all styles it explores – from the band's trademark epic sludge marathons, to thrash workouts, to nods to early Black Sabbath, to swooning melodies of mellower number, to mid-60s-style psychedelia, to spaced-out echoes of campy 70s glam rock a la Marc Bolan.
And while on paper all this sounds like a chaotic hodgepodge, in reality you'd be hard pressed to find a more cohesive record among this year's releases. What unifies those tracks is not just the instantly recognizable stamp the band's beast of a rhythm section puts on them, and not just the uniform burly, meaty production, but a panoramic view Mastodon cast over the history of rock over the past 45 years – unafraid not only to plumb the depths of primeval, archetypal darkness at the heart of heavy music, but also to acknowledge the jaunty vibe of 70s glam and the fragile idiosyncrasies of early psychedelia.
Sounding like chapters of one story, each track interacts with others, revealing the complexities, the overlapping messages, and the connections within rock music, in the end arriving at an earnest – if slightly melancholy – overall picture.
But you don't walk away from this record with a heavy heart, in spite of its overcast vibe and the continuing emphasis on the lower register. The personality of this album is more entertaining than it is gloomy, similar to how a mixture of contrasting traits of character makes an individual not only more interesting to others, but ultimately allows a person to lead a richer life.
And a richer life for themselves and their audience what the band is after on this release.
Sludge remains the band's main point of reference – at least sonically – but if anything, this record shows that it doesn't matter which genre you use as a starting point for your explorations. What matters is imagination and sincerity, and Mastodon have just shown that they have plenty of both.
Genre: Progressive Metal, Sludge Metal, Psychedelic Rock, Hard Rock
Line-up:
Troy Sanders – bass guitar, vocals
Brent Hinds – guitar, vocals
Bill Kelliher – guitar, backing vocals
Brann Dailor – drums
Track Listing:
1. Black Tongue
2. Curl of the Burl
3. Blasteroid
4. Stargasm
5. Octopus Has No Friends
6. All the Heavy Lifting
7. The Hunter
8. Dry Bone Valley
9. Thickening
10. Creature Lives
11. Spectrelight
12. Bedazzled Fingernails
13. The Sparrow
Label: Reprise, Roadrunner, Warner Bros.
Online: www.mastodonrocks.com
Hardrock Haven rating: 7.5/10