by Joe Mis
Staff Writer —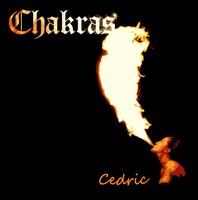 Cedric is the debut release from Cincinnati-based alternative/heavy/goth rockers Chakras. Formed and fronted by singer Andrea Simler DeGolier, Chakras blends elements of alternative rock, metal, gothic rock and a hint of classical into a unique and compelling sound. Chakras stands on its own musical merits and does not need to gain attention by playing the old "female-fronted metal band" card.
Formed the old fashioned way (classified ads and word of mouth), Chakras has gelled to produce a diverse and eclectic yet surprisingly cohesive sound free from many of the stereotypes of modern rock. In spiritualist terms, "chakras" are the energy centers throughout the human body – and these diverse centers combine to make a unique person in the same way that the members of Chakras have combined their varied musical tastes to create something new. Influences from almost every genre – hard rock, prog, gothic, folk and metal – are liberally sprinkled throughout the release. The band's lineup is as follows: lead vocalist Andrea Simler DeGolier, guitarist Jeff Conner, bassist Mary Beth Camp, drummer Steve Klosinski, and cellist / keyboardist Patrice Schlick.
The album kicks off with the very intense anti-war "999." This track displays both the strengths and weaknesses of Chakras as a band. The guitar work is brutal and totally "in-your-face" with a solid rhythm line behind it – technically outstanding performances. The song is well structured and features a great flowing chorus that contrasts nicely with grit of the verses, along with some fine guitar soloing. The track also reveals the band's tendency to over-manipulate Andrea Simler-DeGolier vocals. She has a strong, expressive voice which is too often blurred with the "singing through a megaphone" effect or masked by odd pans, echoes and artificial harmonies. She sounds best when singing without all of the gimmickry. "Split Lip" opens with some superb vocal harmonies (without the gimmicks), and has a bit of a punky, Joan Jett feel to it courtesy of some great Jeff Conner guitar riffs and a bouncing bass line by Mary Beth Camp. "Needle" opens as a mostly acoustic track that allows the cello of Patrice Schlick to contribute to the atmosphere, and then becomes an old school rocker. "Under God" is easily one of the strongest tracks on the album, almost full metal in tone. Great vocals, heavy riffs and a great Steve Klosinski drum line make this one a winner. "Julia" has bit of an old-school feel with an energetic bubbling bass line and high energy riffs, but it is marred by the overdone vocal mix.
The more power-ballad-like "Souvenir" starts the second half of the release. This bitter song shows the vast expressive range of the band, with soft and moody verses, a powerful chorus, great backing vocals and emotional performances by all members. "Cat Voices" is a moody bass and drum driven piece with a very slick lead break and grinding riffs. The murky "BDSM" has a very metal feel to the opening bars but seems to pick up a bit of a commercial vibe as the song progresses, and again, the manipulation of Andrea's voice is more distracting than enhancing. This track does feature some outstanding bass and cello teamwork. "First Footing" is another great track all around. Nicely done acoustic passages and simple chugging guitars give this one a rock radio-friendly feeling. It also allows the cello to be a real player, giving the song a slight mystical Evanescence-like tone. A big bass grove carries the eerie "Sex Parade," and the entire album, to a strong finish.
On the whole, Cedric is a solid album. Chakras is musically tight and immensely talented. The engineering is decent although a bit inconsistent, and the mix allows all of their diverse styles to be fully expressed. There are a few misses among the hits, but Chakras is a young band and they will only improve with experience. The music is brooding, complex and rich in instrumentation, and the lyrics biting with a touch of social commentary – not everyone's cup of tea – but all of it is delivered with fire and passion.
It is hard to recommend this release to fans of a single genre since there is so much in it, but it is safe to say that any fan of the heavier or darker sides of rock will find a good deal to enjoy. If you are into diversity in your music and enthusiasm in its delivery, then definitely pick this one up!
Genre: Hard Rock
Band:
Andrea Simler DeGolier (vocals)
Jeff Conner (guitar)
Mary Beth Camp (bass)
Steve Klosinski (drums)
Patrice Schlick (cello, keyboards)
Track Listing:
1. 999
2. Split Lip
3. Needle
4. Under God
5. Julia
6. Souvenir
7. Cat Voices
8. BDSM
9. First Footings
10. Sex Parade
Label: Independent
Website: http://chakrasband.com
Hardrock Haven rating: 7.5/10