by Cameron Edney
Guest Staff Writer —
Seether's Stewart Talks Touring Australia, Fans and latest album.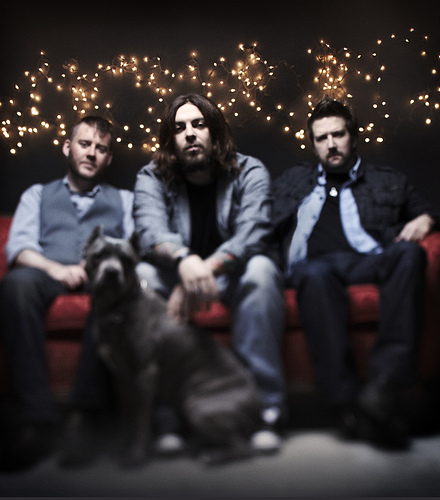 Forming in South Africa in 1999 and spending most of their time these days in the United States, post-Grunge rockers Seether just get better as time goes on! In a year filled with highs and lows Seether released their fifth studio album Holding Onto Strings Better Left to Fray which featured the singles 'Tonight' and 'Country Song' and gained them more radio and television exposure than ever before.
Soon after the album was released guitarist Troy McLawhorn decided to leave the band to return to alternative rockers Evanescence. Continuing on as a trio, Seether's album continued to climb up the charts reaching #2 on the US Billboards and #1 on the US Rock Albums, Alternative Albums and US Hard Rock album charts! Most recently Billboard named the band as there #1 Active hard rock artist.
In support of their fifth album Seether has been hard at work on the road continuing to bring their unique rock parties to life onstage for adoring fans around the world. Australian fans shouldn't feel too bad as the band will return to our shores in February to play a series of shows which will no doubt be exciting and memorable. I recently had the pleasure of speaking once again with Seether bassist Dale Stewart about the bands return to Australia, their latest album 'Holding Onto Strings Better Left to Fray' and the bands dedicated fan base, here is was Dale had to say…
Hardrock Haven: Hey Dale, thank for taking the time out to answer the following questions for our readers, how's everything going?
Dale Stewart: It's been going pretty well man, we've had a little bit of time off lately so the batteries are recharged and ready to get back out there and play some shows!
Hardrock Haven: Well it's awesome to see that you will be back in Australia in February for some shows, what can we expect from you this time around?
Dale Stewart: It's been a while since we got to play in Australia so we're pretty excited about it, we always have a great time in Australia. I think we're going to have fun and make the best of it. Have fun playing and making lots of noise seeing a lot of fans we have contact with online but don't get to see as much as we would the fans in the States, it will be a really cool tour.
Hardrock Haven: We spoke whilst you were here last and you all seemed to be having a great time! What fond memories do you have from your last Aussie tour?
Dale Stewart: Tons of memories mostly memories involving a lot of VB [laughs].
Hardrock Haven: [Laughs] Whilst we're on the subject of touring, you've had the pleasure of sharing the stage with many great artists over the years. Whilst on the road who's given you the best advice and what was it?
Dale Stewart: Um, wow I'd have to say probably the best advice was right in the beginning right when we came over to the States. One of the first bands we met was Drowning Pool, they had just hit it big with 'Bodies' and things were really start to happen for those guys and I was speaking with the guitarist CJ; we'd become very close friends and I remember the first time we met he said "hey man welcome to the States, fasten your seatbelt". I think that stands out in my mind, I don't know if it was the best advice but it sure was true! I blinked and it's ten years down the line and I wonder where the last ten years went
Hardrock Haven: See this is what happens when you drink too much VB [laughs].
Dale Stewart: [Laughs] yeah, you lose big chunks of your life [laughs].
Hardrock Haven: [Laughs] These days before a show are you doing anything specific to warm up and prepare or do you much prefer to hit the stage running on pure adrenaline?
Dale Stewart: As a band we're pretty relaxed when it comes to a show, I think for us it's all about having fun and having a good time and remembering why we do this in the first place! I don't really run and drills before a show we have a ritual that we do before the show. An hour before the show Shawn and I will poor a drink and put on some Sepultura and rock out for a while, tell a couple of jokes we don't really do any stretching or warm up vocal exercises. We're pretty much like a garage band, we don't want to lose the fun aspect; we keep it like we're at a party every night!
Hardrock Haven: Dale, as we know at times it can become quite frustrating sharing a bus/hotel room for weeks, sometimes moths at a time with other members and crew. As times gone on how have you found is the best way to deal with each other on the road especially when it comes to those not so pleasant moments?
Dale Stewart: Yeah absolutely, it's very much like a family. You have this group of people that you spend every waking moment with and you have your ups and your downs, the good times and you fight; fortunately now we've gotten to the point at least here in the States that we can have two buses, one for the crew and one for the band so if you want a little piece and quiet you can go to the back lounge or the front lounge or your bunk. There's usually somewhere to go, back in the old days in the van if you had some kind of beef with anyone you had to iron it out on the spot or have the cold shoulder for a couple of days. Essentially we're like brothers every now and then you have your fights, at this point we've left that behind us, back in the day we'd have our punch ups on the bus or in the van, not often but sometimes there would be some kind of altercation.
Hardrock Haven: I wanted to speak with you also about 'Holding onto Strings Better Left to Fray' six months since its release it's still getting a great response and on heavy rotation in my home. Looking back over the recording process is there anything you would change?
Dale Stewart: Thank you, no I don't think so, this is probably my favourite album to make that we've done! [Producer] Brendan O'Brien was a really big part of that, he really had a lot of input on this album and I think he is a large part of the success of this album and the sound. As a band we feel this is the best work that we've put out and we're really proud of it.
Hardrock Haven: There are some killer tracks on this one including 'No Resolution', 'Fade Out' and 'Tonight' which is a stand-out for me, tell us where you drew your inspiration from when writing for the album?
Dale Stewart: With the writing, we just do what we normally; do we don't really set out with a specific goal or a sound in mind. We just get into a room together and start coming up with rough ideas, piecing ideas, riffs and melody together and start building songs. We write as many songs as we can in the given time. We went back and did that so many times on this album, it took almost a year to do and our label kept pushing us saying they didn't think it was ready yet. "Go back and right some more" they said, we kept doing that and it was frustrating to us as a band but in hindsight it pushed us to deliver even better material. When we did write our best songs, and there were two real stand-outs like you mentioned 'Tonight' was probably the last song that we recorded; and if not pushed then songs like that would have never have made it.
Hardrock Haven: Some of the bass licks on this album are incredible, when it came time to hit the studio did you walk in knowing exactly what you wanted to capture or did a lot of it happen spontaneously?
Dale Stewart: A lot of it is spontaneous, but Brendan is really hands on so before we even set foot in to track the album we did a lot of pre-production. We got the songs to their finished state in the rehearsal space without even setting foot into the recording studio itself. We worked on the songs as a band then said "hey Brendan what do you think of this?" Brendan would give his two cents and we'd rehash the song over and say "is everyone okay with how the song is now?" Then we'd learn the song and run it a couple of times so we all knew it and then we'd go in and lay it down; which is quite an efficient way to do it. Most of ideas that I had were thought out and written in that writing process and pre-production process but there is always a little bit of changing things round in the studio. That's the fun of the studio those magic moments that just kind of happen you might do something by mistake that is really cool that you end up keeping.
Hardrock Haven: Let's also talk about your fans for a moment… you have some very dedicated fans that have had the bands lyrics, portraits tattooed on them, others that go as far as saying your music has literally saved their lives. When you're approached by fans that dedicated and touched by your music what runs through your mind?
Dale Stewart: Yeah, it's actually pretty crazy when people are so affected by something that we've done. It means a lot to us, the band is our lives and very dear to us but the fact that it can have such an effect on people is quite an honor; it's also a little bit unnerving sometimes. You think well, what if someone takes the wrong message? We've all heard the story about the kid that was found hanging with the Marilyn Manson Cd on repeat… I'm sure that's got to be the most awful feeling as an artist! Generally our fans are really cool and we do get a lot of those people and we really appreciate it. If our music is an inspiration for good and it helps people through dark times; that is great we can't ask for more than that.
Hardrock Haven: You certainly can't mate! As time goes on you tour more, record more and learn more about the business side of the industry, what do you feel has been the most important lesson you've learned to date?
Dale Stewart: I think one of the most important lessons in this kind of industry is to be careful who you trust! There are a lot of people that pretend to have your best interests at heart and pretend to be your friend but there's an ulterior motive there; that's a big one and I think a lot of young bands learn that the hard way. I think the industry is changing too quickly now and everyone's just trying to keep head above water and see what's going to happen the changes in the music industry are coming so thick and fast now. The last five years has been insane everyone's just trying to keep up with it, especially on the digital side of things. I don't know yet if it's a good or bad thing in the long run it's definitely different!
Hardrock Haven: Dale, just before we wrap it up as we mentioned Seether are back here next month for some shows, what other immediate plans are in place for the band?
Dale Stewart: We're going to do a show or two in New Zealand; from there we head to Russia then after than we're doing a tour with Three Doors Down through Europe and then we're coming back to the States a do a tour here, so just a lot of touring. It will be a little bit before we release some new recorded studio material we're just getting into the swing of things touring on this album cycle.
Hardrock Haven: Well, enjoy the time out on the road mate. Do you have any last words for our readers?
Dale Stewart: Yeah, thanks so much for the support and thanks for being patient whilst we've been away so long. We look forward to seeing some familiar faces when we get back there.
Don't Miss Seether Playing The Following Shows In February:
Wed, Feb 1, Rosemount Hotel, Perth, Australia
Thurs, Feb 2, Fowlers Live Adelaide, Australia
Sat, Feb 4, The Hi-Fi Melbourne, Australia
Sun, Feb 5,The Metro Theatre,Sydney, Australia
Tue, Feb 7, The Hi-Fi, Brisbane, Australia