Dogbane | Residual Alcatraz
by Justin Gaines
Staff Writer —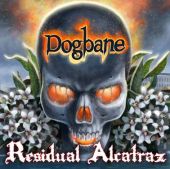 Residual Alcatraz is the debut album from North Carolina-based traditional/doom metallers Dogbane, the latest band signed to Heaven and Hell Records. Like most bands in the Heaven and Hell stable, Dogbane's sound is firmly rooted in the old school, but their heavier, doomier approach definitely makes them stand out.
Dogbane has a fascinating and very effective mix of sounds. Classic doom metal is at the heart of things. Candlemass and Solitude Aeternus of course, but the band that immediately comes to mind is Trouble, especially on Residual Alcatraz's groovier, trippier moments. If doom is 2/3 of the band's DNA, the other third is traditional metal along the lines of Obsession and Witchkiller. Vocalist Jeff Neal channels both Eric Wagner and Mike Vescera here, going from somber intonations to a piercing wail in an instant. The guitar work is just as versatile, going from heavier, doomier riffs to almost thrash metal and back again.
Residual Alcatraz is a very solid album all around, but there are some songs that immediately jump out at you. The Candlemass-sounding "Banished" is one, as is the crushing "Annihilator." After that pretty much everything from "Devil in the Dark" on is first rate. The nearly 10-minute "Burning in the Light" – especially during the instrumental outro – is like an endlessly grooving Iron Butterfly jam. Going from that to the thrashy, pure metal of the title track is a shock, but it works. The one-two punch of "Fire and Brimstone" and "How the Mighty Have Fallen" close the album in glorious metal style, and absolutely leave you wanting more.
Given the recent resurgence of retro-minded metal – both purely traditional bands like Enforcer and Cauldron as well as the heavier, more evil-minded Ghost, In Solitude and Blood Ceremony – a band like Dogbane, which hits the sweet spot between the two sounds, ought to have a pretty wide appeal. And that's not including the classic doom disciples, who will likely want to lock themselves in their dungeons with Residual Alcatraz on repeat as they try and smoke the liner notes. Bottom line: if you have an appreciation for old school heavy metal, emphasis on the heavy, you need to own this album.
Genre: Heavy Metal, Doom Metal
Band:
Kevin Davis (b)
Jerry Cloer (d)
David Ellenburg (g)
Mitch Allred (g)
Jeff Neal (v)
Track Listing:
1. Ride the Serpent
2. Born to Die
3. Banished
4. Annihilator
5. God Forgive You
6. Devil in the Dark
7. Burning in the Light
8. Residual Alcatraz
9. Fire and Brimstone
10. How the Mighty Have Fallen
Label: Heaven and Hell
Website: www.facebook.com/dogbane
Hardrock Haven rating: 9/10