Lacuna Coil | Dark Adrenaline
by John Kindred
Staff Writer —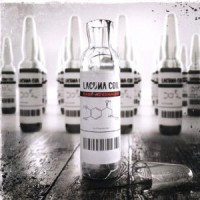 Merging a woman with a pretty face and a smooth silky voice, who wears tight black leather pants with raging, distorted guitars and heavy percussion doesn't really equate to "metal," yet this ongoing trend has manifested itself into this: Another formulated subgenre of metal. Using the term "metal" loosely, a majority of these bands performing within this subgenre find their compositions to be watered down in "heavy" doses of production that literally take the metallic right out of the music. You then combine that with a pop-rock vocalist, and well, come on, at what point is it metal? Evanescence, Nightwish, Within Temptation, Flyleaf, Epica, etc., all style their music to this format. In this game, originality was lost a long time ago. And yes, even Lacuna Coil falls into these convoluted pool of alleged "metal" bands.
The tone of the black and white album cover of Lacuna Coil's Dark Adrenaline appears, on the surface, to be a dark and heavy concept. The reality is that the music is commercial metal, which is written to appeal to the American radio format. It's polished and slick production pulls the heaviness from the songs that thickly are mired in layers of sound.
Produced Don Gilmore (Linkin Park, Bullet for My Valentine) Dark Adrenaline features 12 songs with various special editions that contain an additional bonus track, DVD and other collectible swag. Obviously, the production of the music is amazing. Guitars, bass, drums and vocals are clearly audible. The mix perfectly balances the instrumentation, with nothing overtly too loud. Guitar solos and vocals are easy to hear, sitting on top of the percussion and rhythmic structures of the music.
With that said, Lacuna Coil appear to be facing an identity crisis. It's a distraction that a female-fronted band also must feature the duality of a male lead vocalist. Yes, it's been all the rage for years now, and it's just about time someone said something about it. With the band strategically using Cristina Scabbia's feminine beauty as a selling point along with her voice for their Goth Metal operatic-style of music, how can the male counterpoint, found in the guise of Andrea Ferro, have an identity in the band? He is not a background singer, so they equally share the role.
Throughout the CD, they take turns singing during the verses and share the role in the choruses. This back-and-forth repertoire is reminiscent of the way the rap-metal band Linkin Park presents its vocals. Again, the CD was produced by Don Gilmore. Honestly, with the opening song, "Trip the Darkness," Andrea Ferro's voice is the first one heard, with Scabbia trailing behind. This begs the question, "Just whose band is this?"
What will you take away from Dark Adrenaline? There are no choruses that stick in your head, no hooks that you long to hear again and again. The music begins and ends. Following the same trajectory from start to finish. Little to no tempo changes give the album a stagnate vibe, making all the songs sound the same. As good as the production and performances are, there's nothing memorable. The album doesn't feel dark; it's not brooding and certainly not moody enough to be termed "Gothic."
Genre: Gothic Metal
Band:
Cristina Scabbia — vocals, primary lyricist
Andrea Ferro — vocals
Cristiano "Pizza" Migliore — guitar
Marco "Maus" Biazzi — guitar
Marco Coti Zelati — bass guitar, keyboards, primary composer
Cristiano "Criz" Mozzati — drums, percussion
Track Listing:
01. Trip The Darkness
02. Against You
03. Kill the Light
04. Give Me Something More
05. Upsidedown
06. End of Time
07. I Don't Believe in Tomorrow
08. Intoxicated
09. The Army Inside
10. Losing My Religion
11. Fire
12. My Spirit
Label: Century Media
Hardrock Haven rating: 7/10