by Jonathan
Staff Writer —
January 26, 2012 at Midland Theater in Kansas City, MO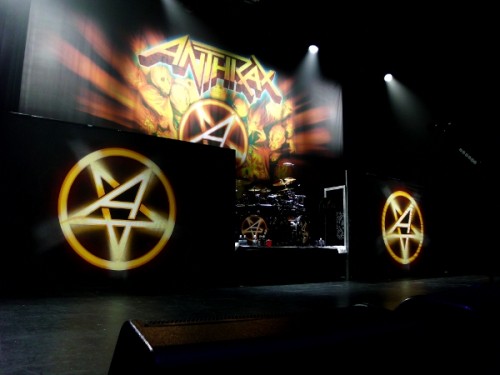 Anthrax live at the Midland theater in Kansas City, Missouri was a unique performance and definitely a night to remember. The audience welcomed the return of vocalist Joey Belladonna with open arms but unfortunately, Scott Ian one of the founding members of Anthrax was absent, so guitar players from both Testament and Death Angel stepped in.
Anthrax is back and as strong as ever. They opened the show with "Earth On Hell" and "Fight 'em 'Til You Can't," both tracks coming from their latest CD entitled Worship Music. Their set list included 13 songs total, 5 songs from their latest CD and 8 classics from their past. Old and tired? Not even close! This band has more fire and energy than most of the younger newer bands today.
The stage design was a direct reflection from the artwork on the Worship Music CD. Including the two bass drums, there were 5 inverted pentagrams surrounding the band. Unless it's a coincidence, considering a pentagram is a 5 pointed star it's actually quite brilliant. The sound was very good and all instruments were audible even when Charlie Benante's double bass drums kicked into high gear, all of the musicians are in fact at the top of their game; there are no weak links in this chain. Anthrax still has what it takes to continue being a standard setting, metal thrashing band for many years to come.
The night was a complete success due to the genuine camaraderie between fellow musicians. Music is not a sport nor is it a competition, like some unimaginative scripted reality TV shows would have us believe. Anthrax, Testament and Death Angel lead by example, they show what it means to work as a team when all involved share common goals. "The show must go on," is a common phrase in show business and what these three bands did together is something that should not go unrecognized. They did it to help out one of their own, they did it for metal, but more importantly they did it for the fans.
Set List:
1. Earth On Hell
2. Fight 'em Til You Can't
3. Caught In A Mosh
4. Antisocial
5. I'm Alive
6. The Devil You Know
7. Indians
8. In The End
9. Got The Time
10. Medusa
Encore:
11. Madhouse
12. Metal Thrashing Mad
13. I am The Law