by Alissa Ordabai
Staff Writer
January 14, 2012 at Brixton Academy in London, United Kingdom
This was Chickenfoot's second ever show in London, the band having played here previously in June 2009. During between-the-songs banter Sammy Hagar shared that the band loves coming to the UK, while for him personally the experience is made even more enjoyable through his appreciation of the English ale. The 2000-seater theater Brixton Academy was close to full house, and the reception given to the band – heartfelt, although not quite nearing full-on ecstatic welcome crowds at the same venue are capable of giving to other Americans luminaries – even those who don't wear the "supergroup" badge.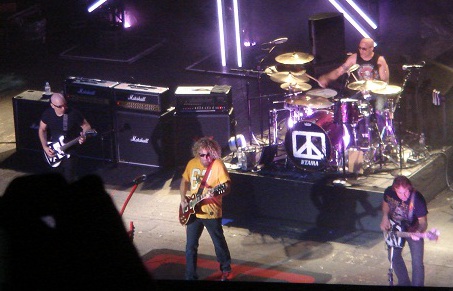 Speaking of which, if the "super" in the "supergroup" has anything to do with outstanding instrumental skill, then Chickenfoot is perhaps the greatest of them all. Guitar guru Joe Satriani and equally adept in high-tech fretboard wizardry Michael Anthony on the bass, along with ueber-drummer Chad Smith are each an awe-inspiring force on their own right. How well they interact with each other in the format of this outfit is, however, another matter. While Anthony and Smith gel so tightly and to such an formidable effect – which they have demonstrated with a jaw-dropping bass-driven intro to "Turnin' Left" – there are also times when Satriani's leads are coming through as slightly too alien in the context of such simplistic songwriting as this band's.
On the biggest standouts of the evening, such as "Big Foot" and "Something Going Wrong" his leads sprang seamlessly from the song to a spectacular effect, showing how mammoth riffs and laconic, powerful leads can turn a simple song into an anthem. But at other times, as on "Alright Alright" and "Soap on a Rope" it felt that the song and the solos were conceived in a very different headspace – Satch probably taking the inspiration from the privacy of his own inner continuum, while the song itself was following the well-trodden path of the generic hard rock songwriting.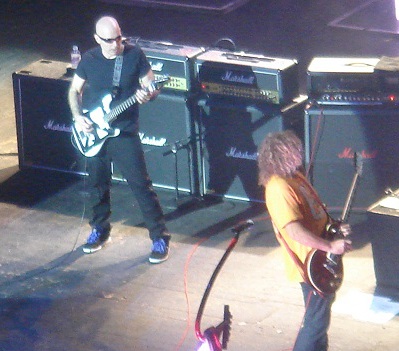 And songwriting is another aspect of this band which stops it from being truly great. There were gems during the show such as "Big Foot" with its inspired riff and huge space-rocking presence, and "Sexy Little Thing" with its deliciously layered sound and folkish songwriting tapping into the vibes of Led Zeppelin III. But much of the other material ranged from predictable to downright unfinished demo-quality songwriting – especially with such songs as "Alright Alright" and "Up Next".
Toward the end of the show Hagar assured the audience that Chickenfoot is a purely non-commercial project and that they aren't in it for the money, but simply love the music that they play. While in case of Hagar this sounds plausible, it is up to Satriani's fans to decide if a musician of such sophisticated tastes and such vast musical knowledge finds genuine pleasure in such simple tune-craft. But then again, simple pleasures are at times the hardest to allow yourself, and most of us would never know what enjoyment and pleasure really mean to those who know it all and who in the past have achieved everything they aimed at.
Set List:
1. Lighten Up
2. Alright Alright
3. Big Foot
4. Sexy Little Thing
5. Soap on a Rope
6. Up Next
7. My Kinda Girl
8. Down the Drain
9. Three and a Half Letters
10. Something Going Wrong
11. Turnin' Left
12. Future in the Past
Encore:
1. Different Devil
2. Oh Yeah
3. Foxy Lady (Jimi Hendrix cover)
Photos Appear Courtesy of Alissa Ordabai