by Nikiforos Skoumas
Staff Writer —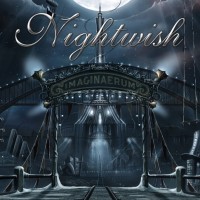 Back in 2007, when Nightwish introduced Anette Olzon as their new lead singer, a major part of the press came to label the move as the 'greatest risk in the band's career.' One feels that their new album Imaginaerum sets higher and harsher odds for Nightwish than ever before.
In a day and age where physical album sales decrease semester after semester, Nightwish put out an album that cost altogether no less than 400,000 Euros (that's well over half a million dollars). So the stakes are once again up for the Finnish symphonic band.
And being a band of that kind it is only natural that they should be investing on orchestral arrangements. For the task in hand, the quintet hired the London Symphony Orchestra, complemented by the 'London Metro Voices' choir (heard on such blockbusters as Lord of the Rings Trilogy and Pirates of the Caribbean).
These high profile collaborations not only reinforce the creative boundaries of the band but also set very strict rules as of how Holopainen's songs should be composed. Nightwish was built on intense, often up-tempo, rhythm section, thick guitars and extra melodic keyboard arrangements. In contrast to a classic Nightwish song where Tuomas would induce a multitude of keyboard harmonies through a variety of tempos, the new album features merely a couple of very simple core melodies per songs, dressed in the best way possible, leaving a lot to be desired.
One finds that the songs on Imaginaerum roughly fall in two categories: the 'soundtrack rockers' and the 'tales.' On the first category one lists the heavier songs like, "I Want My Tears Back," which lacks the drive of a powerful guitar melody or any instrumental improvisations or leads whatsoever (hence the term 'soundtrack') and the 'tales' are acoustic-symphonic songs for the biggest part which would no doubt tie nicely with a theatrical play.
Soundtracks and theatrical plays … well there is no secret that Nightwish intend to release a movie based on the album's concept later in the year; still that does not alter the fact that these high profile collaborations have actually compromised their songwriting as opposed to liberating their musical style.
The limited edition of the album is thick two-CD digipack featuring the original album and its instrumental counterpart along with a double poster.
Genre: Female Fronted Symphonic Metal
Line up:
Anette Olzon – vocals
Tuomas Holopainen – keyboards, piano
Emppu Vuorinen – guitars
Marco Hietala – bass, vocals (tracks 1, 3, 4, 5, 6, 9, 10, 11, 12 )
Jukka Nevalainen – drums, percussion
Track Listing:
1. Taikatalvi
2. Storytime
3. Ghost River
4. Slow, Love, Slow
5. I Want My Tears Back
6. Scaretale
7. Arabesque
8. Turn Loose The Mermaids
9. Rest Calm
10. The Crow, The Owl And The Dove
11. Last Ride Of The Day
12. Song Of Myself
13. Imaginaerum
Band website: http://www.nightwish.com/en/
Hardrockhaven rating: 6/10