by Justin Gaines
Staff Writer —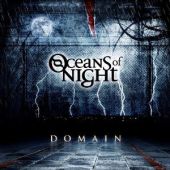 Domain is the second album from Oceans of Night, and the latest in a series of collaborations between songwriter/multi-instrumentalist Scott Mosher and vocalist Scott Oliva. Under the Oceans of Night moniker, the duo delivers an interesting and effective mix of progressive metal and ambient sounds.
Progressive metal, by nature, tends to be somewhat cold and clinical, emphasizing precision and technicality above all else. With Domain, that technicality is balanced by a strong dose of ambient and atmospheric elements. The end result is a type of progressive metal that resonates more on an emotional level. Like Fates Warning with the atmosphere of a Pink Floyd or Porcupine Tree album. Speaking of Fates Warning, Joey Vera mixed and mastered Domain.
Mosher – as usual – finds the right balance between technicality and accessibility with his musicianship, especially on guitar. There are some intricate and dazzling solos on Domain, but they're always delivered in a greater melodic and atmospheric context. They're strong enough that you take notice of them, but never so stark that you lose the overall ambient feel the greater song evokes. On the vocal side, Oliva seems to know just the level of power and emphasis that the songs need at any given moment, alternately reminiscent of Geoff Tate's lower, crooning register and a more forceful Zak Stevens/Urban Breed style. Domain is an effective album on just about every level. The only downside is that the same ambient elements that allow the album to sink into your subconscious almost from the start also tend to lull you to sleep when the pace of the music slows for any length of time.
Oceans of Night has never been easy to pigeonhole into a neat genre identifier, and that's a good thing. Domain checks all of the boxes of the progressive metal genre, but blurs the edges. It's an album that will appeal to most progressive metal fans, especially those looking for something more than just another variation on the Dream Theater template.
Genre: Progressive Metal
Band:
Scott Mosher (g, b, k)
Scott Oliva (v)
Alan Smithee (d)
Track Listing:
1. Domain
2. Don't Look To Me
3. Dreams in Artificial Sunlight
4. So Near Yet So Far
5. Divisions of Time
6. Seven Days of Rain
7. The View To You
8. Instruments of Fear
9. The Future Remembered
10. Ghosts of the Past
Label: Moribund Cult
Website: www.oceansofnight.com
Hardrock Haven rating: 8/10