Reckless Love | Animal Attraction
by Nikiforos Skoumas
Staff Writer —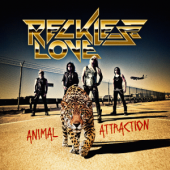 Along with Steel Panther, Reckless Love is the second part of the plan devised by Universal Music to take over the international melodic rock/glam metal scene. Through their debut album Reckless Love established themselves as one of the premiere glam/melodic rock bands to be based in Europe, already popular in the United Kingdom and Japan.
Animal Attraction is the brand new second studio album by the Finnish quartet and picks up where their self-titled debut left off. The line up has remained unchanged featuring lead singer Olli Herman, guitarist Pepe Salohalme, drummer Hessu Maxx and bassist Jalle Verne. The track-list of Animal Attraction is, once again, synthesized to feature a bit of everything the typical '80s rock fan would enjoy: riff-driven, groovy glam metal tunes, AOR ballads, keyboards driven melodic rockers, and a couple of club disco rock tracks.
In a way contrasting their debut, Animal Attraction makes more economical use of rhythm guitar, allowing room for the keyboards and bass to capture a bit more of the spotlight on this second effort. You can expect all their characteristic riffs, guitar melodies and solos of the debut
Animal Attraction makes a glam metal opening with the title track baring a rock 'n roll riff, big drum toms and sing-along chorus; following is the Van Halen-esque "Speedin'" which opens on a tapping guitar solo while Herman uncovers the Roth in him. Following that we get the first adult oriented rocker in the standard tempo "Born to Break Your Heart," whose core melody reminds one of 69 Eyes.
Regarding the disco rockers "Hot" and "Dance," it is quite remarkable how Reckless Love combine distorted guitars, and loud bass with disco tempos into songs that actually make sense whether you play them at the club or at home. Equally significant addition is the glamorous melodic rocker "Dirty Dreams" which is bound to leave a lasting impression whereupon Olli reflects on the experience of spending the night with a woman senior to him (in age and experience). Lastly, one has got to address the ambiguously titled "Coconuts" which has triggered mixed reactions from their fan base. Beyond its title, "Coconuts" is actually a melodic guitar driven rocker pretty straightforward in nature. And if you think that tropical fruit might be quite an original topic of inspiration for a rock band allow one to take you back to the 1988 song "Beneath da Coconuts" by Danish AOR band Fate.
Overall, Reckless Love have never been shy in letting their influences flow through their original songs so experienced fans of the genre, for the biggest part, will be able to tell where each song on Animal Attraction is coming from. If you enjoyed their debut as well as the latest albums by Crazy Lixx, Miss Behaviour and Gunner, you can not go wrong with Reckless Love's second studio offering.
Genre: Glam Metal, Melodic Rock, Disco Rock
Line up:
Olli Herman – lead vocals
Pepe Salohalme – guitar
Hessu Maxx – drums
Jalle Verne – bass
Track list:
01. Animal Attraction
02. Speedin'
03. Born To Break Your Heart
04. Hot
05. Fantasy
06. Dirty Dreams
07. Dance
08. Fight
09. Switchblade Babe
10. On The Radio
11. Coconuts
12. Young N Crazy
Band Website: http://www.recklesslove.com/
Hardrockhaven rating: 8.5/10