Seasons of the Wolf | Lost in Hell
by Justin Gaines
Staff Writer —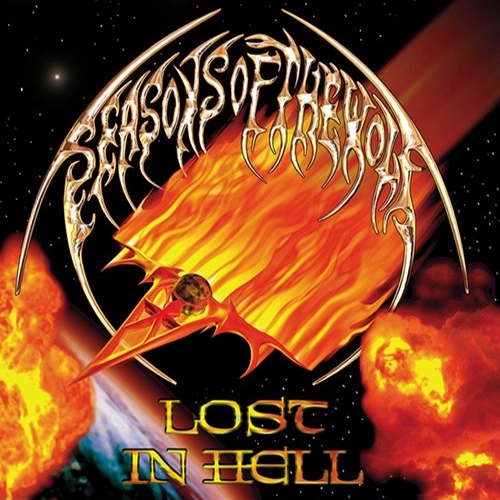 We've all seen the recent trend of traditional metal revival bands emerge in the past few years. There's even a catchy moniker – NWOTM – to describe bands like White Wizzard, Holy Grail, Enforcer and the like. But before those bands came forward to put old school metal back on the map, there were bands who toiled in the underground and never once lost sight of the classic heavy metal sound. One of those bands is Florida-based Seasons of the Wolf, who has been delivering their own unique brand of traditional metal since 1989.
Originally released in 1999, Lost in Hell was Season of the Wolf's second album, and is arguably their best release to date. More than just a study in Iron Maiden and Judas Priest worship, Lost in Hell was an extremely creative album. It still falls in traditional metal territory, but there are some progressive and even Gothic metal touches that make the album that much more memorable. Killer guitar work, prominent atmospheric keyboards and wailing vocals help make Lost in Hell an album that brings to mind the best of Helstar, Lizzy Borden and Crimson Glory.
More than a decade since it was originally released, Germany's Pure Steel label has reissued Lost in Hell with some sweet bonus material. The catch? It's a vinyl-only reissue. But if you're a vinyl collector and a traditional metal fan, this is a reissue to go crazy over. It's a double-LP reissue in a gatefold cover and limited to 333 numbered copies. The reissue also features three bonus tracks – a live version of "Land of the Dead" and the studio songs "Nostradamus 1999" and "Bloodlust." It's a great looking and great sounding reissue of an already terrific heavy metal album.
The rest of us will have to settle for the CD or MP3 version of the album, both of which are available directly from the band. Either way, if you're a fan of high quality traditional heavy metal and haven't yet discovered Seasons of the Wolf, Lost in Hell makes a great introduction.
Genre: Heavy Metal
Band:
Wes Waddell (v)
Barry Waddell (g)
Chris Whitford (b)
Wayne Hoefle (d)
Dennis Ristow (k)
Track Listing:
1. Lost in Hell
2. SOS
3. Interstellar
4. Voodoo Master
5. Initiation
6. One Land One King
7. Abandoned City
8. Communion
9. Witchfinder
10. A Face in the Mist
11. Vengeance
12. Land of the Dead (live)
13. Nostradamus 1999
14. Bloodlust
Label: Pure Steel
Website: www.seasonsofthewolf.com
Hardrock Haven rating: 8.75/10