by Justin Gaines
Staff Writer —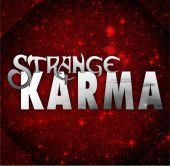 The appropriately-titled Volume 1 is the debut album from Australian hard rockers Strange Karma. The Sydney-based band is one of a host of new bands that takes its cues from the classic '70s rock sound, but unlike a lot of their peers, Strange Karma has the kind of heart, soul and creativity to make that retro rock sound credible.
As soon as opening rocker "America" kicks in, you can be forgiven for thinking "Led Zeppelin knockoff." It is a very Zeppelin-sounding song, and a good one at that. It doesn't take long to figure out that there's a lot more going on here. "Down and Out" is something Queen could have written, and the spacey "Time" is like a glorious Queen/T-Rex mashup. The band has this great combination of bluesy guitars, wailing vocals and lush piano that's just irresistible, taking the listener from gritty barroom rock to flamboyant glam to an almost psychedelic sound, often in the space of a single song (see: "Fame"). There are a lot of bands that have gained attention by aping Led Zeppelin or the Rolling Stones, but it often comes across as gimmicky and contrived. You never get that feel from Strange Karma. Yes, you're going to think about those bands when listening to Volume 1, but in a good way. The band takes an unusual approach to the classic rock sound, and they make it seem completely natural.
This one is pretty simple. If you like rock n' roll, you need to hear Strange Karma. Need more? How about this? If the classic rock station is the only preset on your car radio, Volume 1 will seem like a gift from the gods of rock. It's rare that a modern band so successfully channels the classic '70s rock sound. Strange Karma does it brilliantly and without sounding like a nostalgia act (though it might make you crave a nice vinyl copy of Volume 1 to make you dust off the turntable).
Genre: Rock
Band:
Martin Strange (v) (g) (p)
Paul Strange (g) (v)
Jason McDonald (d)
Doe Prijono (b)
Track Listing:
1. America
2. Down and Out
3. Time
4. Fame
5. Storm
6. Harder Than a Stone
7. Uneasy
8. Young and Free
9. Mind Games
10. Indian Sun
Label: FNA Records
Website: www.strangekarma.net
Hardrock Haven rating: 9/10