The Elves | And Before Elf…There Were Elves
by Justin Gaines
Staff Writer —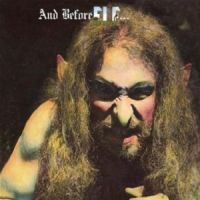 One of the more interesting chapters in the early history of the late Ronnie James Dio's storied career, and the one that is perhaps least in line with the epic heavy metal Dio was so well known for, was the band Elf. Elf – previously known as The Elves and The Electric Elves – played a strange but oddly compelling mix of blues, honky-tonk and boogieing rock n' roll. Think of a Led Zeppelin/Creedence Clearwater Revival hybrid. Elf released a handful of albums in the '70s before Dio joined Rainbow, but there were several early recordings that have never seen the light of day…until now.
The collection And Before Elf…There Were Elves features a dozen previously unreleased recordings, both live and studio material, including some covers. It doesn't include the official Elves singles, which is a bit disappointing, but there's still plenty to enjoy here. The material is a bit rough, but given the source material that's understandable. The songs have been remastered, but you can still hear some hissing and similar defects.
And Before Elf…There Were Elves kicks off with "You Shook Me," a cover of the Willie Dixon blues song that Led Zeppelin had also taken on at about the same time. It's a fun version, and one that sets the tone for the rest of the album. The collection rambles back and forth between upbeat honky-tonk rockers and pure blues worship. There's not much here that would hint at the kind of heavy metal Dio would go on to create, but there are moments on "Smile For Me Lady" and "Driftin'" that are Rainbow-esque musically. The studio tracks are the more interesting songs on this release, but it's the live material, particularly the closing cover of Chuck Berry's "Little Queenie" (with a bit of "Johnny B. Goode" thrown in) that are the most fun.
Obviously a collection like And Before Elf…There Were Elves, and indeed any Elf material, is not for casual Dio fans or those only interested in the man's heavy metal career. For serious Dio disciples though, this is a must-have release, and one that showcases the early work and creative output of a lost icon.
Genre: Rock
Band:
Ronnie James Dio (v) (b)
Gary Driscoll (d)
Doug Thaler (k)
David "Rock" Feinstein (g)
Nick Pantas (g)
Track Listing:
1. You Shook Me
2. Stay With Me
3. Four Day Creep
4. Buckingham Blues
5. Wakeup Sunshine
6. Driftin'
7. Smile For Me Lady
8. You Felt the Same Way
9. Simple Man
10. Drown Me in the River
11. Cold Ramona
12. Little Queenie
Label: Niji
Hardrock Haven rating: 8/10