The Voyage To Hell: 70,000 Tons of Metal 2012
by Chris A.
Staff Writer —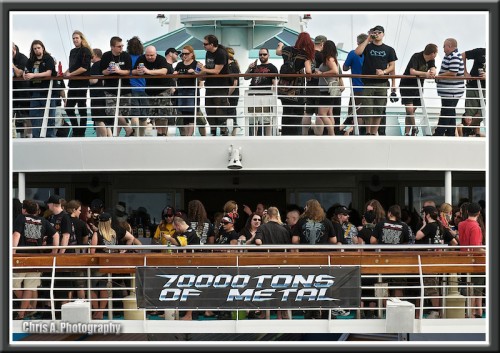 For the past five days, the Caribbean has been under a musical siege of epic proportions in the form of the second 70,000 Tons of Metal cruise. Forty-two Metal bands, representing an excellent cross-selection of metal genres, shared a luxury cruise liner with 2,000 hard-core metalheads on a voyage straight to Hell. Hell, Cayman Islands, that is.
With three up-close and personal stages and performances scheduled to be running nearly nonstop during sailing times, it was an accepted reality that seeing every band would be an impossibility for mere mortals.
On the eve of the cruise, Miami, which normally is under the control of spoiled 20-somethings who are wasting their parents money, was overrun by a hoard of evil-black T-shirt-wearing metalheads from all over the world. With metalheads from more than 50 countries on board, the only common language was the metal. Walking down South Beach, with its neon lights camouflaging its shabby daytime appearance, the black-clad rockers pounded beers and flashed metal in an almost like a salute to their soon-to-be shipmates they passed on the street. Various pre-sailing parties sprouted up along the shores and within hotels all over Miami, which were prepared for the much-anticipated cruise.
On Monday afternoon the ship, a veteran of the previous 70,000 Tons of Metal, welcomed its newest headbangers aboard, while a crane loaded the material and equipment required to transform part of the cruise ship's pool deck into a massive stage and viewing area.
For the vast majority of he fans on the ship, it was a rare opportunity to see the physical labor that's required to into putting on a big-time heavy metal concert as they were able to watch the stage construction from above. The amount of hardware was incredible and included steel rigging, tarps, flooring, lights, electricity, cables, amps, guitars and all the gear we tend to think of. It was fascinating to watch the army of technicians swarming over the ship's pool area, working feverishly to erect the deck and stage, while a growing audience watched their progress.
At just after 5 p.m., the ship slowly and silently slipped away from its berth and started its journey, up the channel that would take it out of the Port of Miami and into the Caribbean. The once towering skyline of Miami soon disappeared into the horizon and into the darkness as the 800-plus-foot vessel started its 70,000 Tons of Metal journey.
The vast quiet of the Caribbean soon was shattered by ceaseless "crunch" of overdriven electric guitar driven by Marshall amps turned up to 11.
Stay tuned to Hard Rock Haven much more about the 2012 70,000 Tons of Metal Cruise. For more cruise information, visit the official site at www.70000tonsofmetal.com.
70,000 Tons of Metal Pre-Cruise Photo Gallery
no images were found
Photos Appear Courtesy of Chris A.