Tony MacAlpine | Tony MacAlpine
by Alissa Ordabai
Staff Writer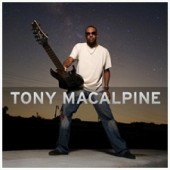 On his new solo release – the first in 10 years – Tony MacAlpine presents his classically inspired experimental rock in an edgier, more complex and sombre mood than ever before. One of Mike Varney's most uniquely gifted former proteges to this day finds fresh ways of combining his virtuoso guitar and keyboard mastery, as well as mixing genres ranging from prog-rock to metal.
Changes in MacAlpine's vision could be down to his growing experience, which over the past few years have included touring with Steve Vai and collaborating with other luminaries such as Billy Sheehan and Derek Sherinian. Or it could be that l'air du temps is catching up with MacAlpine too – the turmoil and uncertainties of our times making an impact on yet another artist.
Whatever is the reason for replacing the exuberant jovial sparkle of his previous solo releases for a darker and more conflicted atmosphere, the album is as solid in substance as his other efforts: it's all about epic soundscapes, song-like melodies, and moods ranging from blunt, punchy heavy metal riffing to eerily poetic sprawling leads sending listener into outer space levitation.
Despite its diversity, it is also a coherent, unified collection of dramatic tunes, and both MacAlpine's songwriting and his technique are as impressive than ever. In contrast to other fellow Shrapnel graduates, some of whom have recently been toning down their formidable technique in a bid to reach for a wider audience, MacAlpine is upfront about demonstrating his stunning chops at length.
But what sets him apart from many other shredders, is that his knockout guitar passages are woven into the fabric of the pieces organically and with taste. You barely notice how fluidly he slides into them, finding yourself hit by the tornado only when the high-speed swirls of notes are erupting at full blast.
Being an equally accomplished keyboard player, and having been brought up in the classical piano tradition – where high-speed chops have never been anything to be ashamed of – MacAlpine does not concede to what current popular music fashions are dictating to the mainstream. At the same time – and for the same reason – MacAlpine is one player who's always made his technique serve the music, not the other way around.
While guitar remains the integral part of MacAlpine's solo records, the keyboard adds an extra dimension to those songs not only through tonal variety, but as part of his songwriting. The standout "Ölüdeniz" is a good example where MacAlpine's keyboard- guitar call-and-response is taking his writing to another level. On another highlight "Ten Seconds to Mercury" he draws his synth sounds from prog-rock, his piano – from jazz and his guitar sounds from metal for a dramatic, rich soundscape tapping into the Seventies rock opera vibe perhaps with intentional wit, given this is an instrumental record.
MacAlpine's eclectic interests and moods also include exploring his mystical side in more depth than ever before on closing cuts "Summer Palace" and "Salar de Uyni". Both are haunted, dusky tracks, unsentimental, but contemplative in a way that makes you think that there has always been more to MacAlpine's intentions than looking for ways to connect rock, jazz fusion and classical music while realizing his full self. Like all musicians who reach for a higher goal, here MacAlpine at times abandons the demonstrations, and goes for the essence of his purpose, connecting with his listeners as a fellow human, not as a virtuoso aiming only to impress his audience.
Genre: Instrumental guitar rock, hard rock
Line-up:
Tony MacAlpine – guitar, keyboard, drum programming, bass (except track 2)
Virgil Donati – drums (tracks 1, 5, 10)
Marco Minnemann – drums (tracks 3, 4, 8, 12)
Philip Bynoe – bass (track 2)
Track Listing:
1. Serpens Cauda
2. Ölüdeniz
3. Fire Mountain
4. Dream Mechanism
5. Ten Seconds to Mercury
6. Flowers for Monday
7. Angel of Twilight
8. Pyrokinesis
9. Blue Maserati
10. Summer Palace
11. Salar de Uyuni
12. The Dedication
Label: Favored Nations
Online: http://www.tonymacalpine.com/
Hardrock Haven rating: 7/10