Whitechapel | Recorrupted
by Cynthia Jo
Staff Writer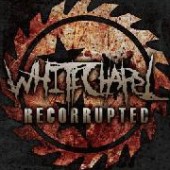 Deathcore overall has that evocative, too many breakdowns, monotonous, boring beats, and the heavy synths overuse. One band that puts that into good use is Knoxville sextet, Whitechapel.
Their latest EP, Recorrupted, has only five tracks — one which is an original song, one Pantera cover, and two remixes.
Beginning with the only original song, "Section 8" the album establishes a very generic sound of under-toned, uncreative breakdowns. The Pantera cover of "Strength Beyond Strength" probably has Dimebag Darrell rolling over in his grave. The cover is simply boring. There is no creativity, perhaps one of the worst Pantera covers ever recorded.
Probably the two remixed tracks, "Breeding Violence" and "This is Exile" are more than adequate, but that depends on who is listening to them. Those two tracks are groovy and hard-hitting and will probably be in good use for a video game or something. Whitechapel fans will probably love "End of Flesh." The track is calm and haunting; a twist to the EP since it's nothing close to deathcore overall.
Bottom line, Whitechapel's Recorrupted does deserve credit for those two remixed tracks — however, deathcore fans don't care about remixed tracks. This EP just opens the doors for more hatred toward the endless "chug-chug-chug" that deathcore bands love.
Genre: Deathcore
Band:
Phil Bozeman (V)
Alex Wade (G)
Ben Savage (G)
Gabe Crisp (B)
Zach Householder (G)
Ben Harclerode (D)
Tracklist:
1. Section 8
2. Strength Beyond Strength
3. Breeding Violence
4. This is Exile
5. End of Flesh
Label: Metal Blade
Website: metalblade.com/whitechapel
Hardrock Haven Rating: 4.5/10