Will Wallner & Vivien Vain
by Nikiforos Skoumas
Staff Writer —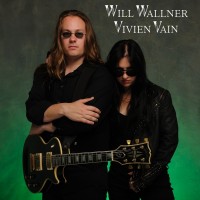 Coming on February 1st is the debut album of British guitarist Will Wallner and Croatian singer Vivien Vain. Having both relocated to the United States; Los Angeles, CA., in particular, they enjoyed some high profile rock acquaintances including Carmine Appice (Blue Murder, King Kobra) and Vinnie Appice (Dio, Black Sabbath).
Well the two drum legends share percussion duties on the Wallner & Vain album also featuring guest performances by bassist Jimmy Bain and Rudy Sarzo while keyboards are contributed by Tony Carey and Derek Sherinian; naturally Wallner handles all guitars and Vain all vocals.
The most obvious musical label one could attach to the project-band is female fronted metal-hard rock. In an attempt to further define their style, it would be fair to claim that Wallner & Vain play melodic hard rock which ties back to 1983-1984, hence substantially heavier and less friendly than its adult oriented counterpart.
Now, in terms of performance, as you would expect the masters deliver as always authentic '80s rock vibe while undertaking a rather complementary role, allowing the new blood to prove themselves which is what the Wallner & Vain project is all about. Vain seems vocally comfortable at mid-range and for that matter never stresses herself beyond her comfort zone, so one can only guess the extent of her vocal range. On the other hand this unforced vocal approach that Vivien brings to the table is actually very convincing, hence a more technical style would not sit well with the songwriting found on the album.
Now coming to guitarist Wallner, he proves an accomplished rock-metal guitarist without doubt. Will comes up with classic sounding riffs, memorable melodic guitar lines and inventive solos. Still it has to be clear that Will may reference John Sykes as his main influence but his style is fundamentally different to the guitar legend's trademark melodic, AOR shredding.
Overall what Will and Vivien have achieved with this debut is no small feat; A classic sounding hard rock album backed by half a dozen rock royalties. If you enjoy hard rock that originates to the early '80s then you should definitely check this album.
Genre: Hard Rock, Melodic Metal
Track Listing:
The Dream
Dreamstealer
Streets Of Rage
Fourteen Twenty Eight
All That I Want
Miles Ahead
Soul Monster
Rising
Indestructible
Line Up:
Vivien Vain – Vocals
Will Wallner – Guitar
Guests:
Carmine Appice – Drums on Tracks 3, 5, 9
Vinny Appice – Drums on Tracks 2, 3, 4, 6
Brian Tichy – Drums on Track 7
Tony Franklin – Bass on Tracks 3, 5, 7, 9
Rudy Sarzo – Bass on Tracks 4, 6
Jimmy Bain – Bass on Track 2
Tony Carey – Keys on Tracks 1, 2, 8, 9
Derek Sherinian – Keys on Track 7
Band website: http://www.wallnervain.com/
Hardrock Haven rating: 7.5/10