Abigail Williams | Becoming
by Cyndi Jo
Staff Writer —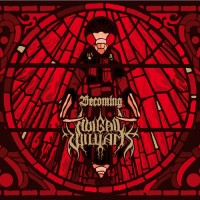 Los Angeles based band Abigail Williams have been demonstrating how black metal should be done since their 2006 debut EP Legend. Now, four years later, Abigail Williams' third full-length album, Becoming, is sixty minutes of just genuine symphonic black metal from the first through the sixth track.
The first track and first single, "Ascension Sickness" is simply a raw oriental ambient tune. Starting off somberly, it quickly builds up and showcases Ken Sorceron's powerful vocals; they aren't the cleanest of vocals, but that can be surpassed because of how perfect the actual music is. Black metal fans will appreciate "Radiance" because guitarist Ian Jekelis grittiness in his guitar riffs demonstrates the dynamic capability the current foursome that is Abigail Williams have as black metal songwriters.
The overall production is a great step up from the last album. The transitions make it an easy listen. "Beyond the Veil" is a great example of that. The same oriental, theatrical tone makes it flow perfectly in a very neatly-wrapped, almost hour-long album.
Bottom line, Becoming is more than just horror-symphonic metal that will intrigue and captivate the hearts of black metal theatrical lovers everywhere. Listening to its entirety is the only way to understand and be mesmerized by it — a truly worthy album.
Genre: Black Metal
Track List
1. Ascension Sickness
2. Radiance
3. Elestal
4. Infinite Fields of Mind
5. Three Days of Darkness
6. Beyond the Veil
Band:
Ken Sorceron
Ian Jekelis
Griffin Wotawa
Zach Gibson
Label: Candlelight Records
Website: myspace.com/abigailwilliams
Hardrock Haven Rating: 8/10