Amadeus Awad | Time of the Equinox
by Alissa Ordabai
Staff Writer —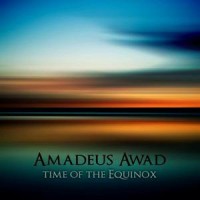 Somewhere between prog-rock, instrumental guitar rock and the barefaced theatricality of a Broadway musical, the record at hand is a curious mixture of safe, time-tested styles unified by a pathos-laden melancholy mood, although occasional up-beat tracks such as "Spiritus Devi" and "Time of the Equinox" prove to be its best highlights.
With alternate nods to the Alan Parsons Project, David Gilmour, Ritchie Blackmore's Rainbow, and a dash of Middle Eastern exoticism, plus episodic high-tech guitar demonstrations, the album still manages – despite its capriciousness – to paint a sincere picture of prog-rock as viewed these days from Lebanon, and at times touchingly so. The emphasis is on the guitar – be it acoustic or electric – takes Awad from the artless and deliberately child-like parts to flashy fretboard acrobatics a la Satriani, but it's the unaffected candor of the simpler cuts that pulls the deepest resonance, when imitations are abandoned and Awad is intuitively tapping into something beyond allusions, and at privileged moments – beyond the everyday realities.
Much of the record is tadpole-stage ideas, with production to match, but even behind the raw outlines and unfinished musical designs there is a knack for picturesque, almost cinematic songwriting, an ambition to realize a wide, panoramic vision, and an attempt to conceptualize one's own life story into a unified piece of work. How well the album's parts resonate not only with each other, but with its audience on a universal human level is uncertain – not because of cultural differences between the East and the West, but rather because of the certain type of solipsism which at times is hard to avoid it in prog-rock. Still, when Awad manages to decamp from the myopic point of view, he shows the potential of becoming just as convincing as his legendary predecessors.
Genre: Prog-Rock, Instrumental Guitar Rock
Personnel :
Vocals : Mark Boals, Liz Vandall & Elia Che
Piano & Keyboards : Mood Yassin
Guitars & Bass : Amadeus Awad
Guitar Solo On Track nb.11 By Timo Somers
Piano Solo On Track nb. 6 By Amadeus Awad
Track Listing:
1. The Origins of Light
2. Gift of Solitude & Joy
3. Paper Dreams Pt. I : Requiem (Feat. Marc Boals)
4. Paper Dreams Pt. II : Dies Irae (Feat. Marc Boals)
5. Paper Dreams Pt. III : The Tempest (Feat. Marc Boals)
6. Time of The Equinox
7. Spiritus Devi
8. Meteors In The Blue (Feat. Liz Vandall From Sahara)
9. Virtual Eclipse
10. Nostalgia (Featuring Liz Vandall From Sahara)
11. Tales of Celtic Sunsets (Feat. Timo Somers From Delain)
12. Autumn Eyes (Feat. Elia Che)
13. L'Univers En Deuil
Hardrock Haven rating: 6/10