by Nikiforos Skoumas
Staff Writer —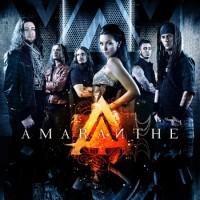 It's been over two years since Dreamland singer Jake E. and Nightrage guitarist Olof Morock sat down to discuss the possibility of forming an original band/concept in Swedish metal. Knowing that Jake's background is melodic metal and melodic hard rock and Olof's melodic death metal, experienced fans can imagine what the end product would sound like; well not quite.
The outcome of this collaboration is Amaranthe, a band-project fronted by three singers of different vocal disciplines. Jake handles clean vocals, Andres Solvestrom performs brutal vocals and (the incredibly talented) Elize Ryd adds the female vocals. The rest of the line up features band-leader guitarist Morock, bassist Johan Andreassen and drummer Morten Sorensen.
The foundation of Amaranthe's sound is the well identifiable Swedish heavy-melodic style while the vocals provide a major area of differentiation for the band. Obviously the lion's share of vocal lines goes to Elize who exchanges lines with Jake while Anders ads his brutal attack between the verses and choruses.
Speaking of choruses, Amaranthe have probably the catchiest, lengthiest and most melodic choruses in contemporary melodic metal. That is very much due to the technical proficiency of Elize who carries the majority of vocal harmonies accompanied by Jake. Songs like "Hunger," "One Million Light-years," "Automatic" and "Rain" bare choruses with such mainstream quality, definitely providing a point of concern for the so-called 'true' metal fan.
Moving to the instrumental aspects of Amaranthe's style, the rhythm section is not far from the characteristic melodic metal rhythm section with refined bass and drum sound and the occasional double-bass drum attack. Morock once again proves himself the melodic shredder adding inventive guitar lines and substantial melodies during the solos. Truth be told his riffs come out as a bit too obvious yet he compensates by dressing his rhythm guitar with keyboard harmonies which performed by himself.
Overall Amaranthe is a somewhat original concept in 2012 metal attempting to bind together melodic metal, death metal and female fronted metal in an album that, for the biggest part, makes sense. Those who have followed the respective careers of the artists and bands mentioned above should definitely try this fast rising Swedish hybrid.
Genre: Melodic Metal, Death Metal, Female Fronted Metal
Line up:
Elize Ryd – clean female vocals
Jake E – clean male vocals
Andreas Solveström – guttural vocals
Olof Mörck – guitar & keys
Morten Løwe Sørensen – drums
Johan Andreassen – bass
Track List:
1. Leave Everything Behind
2. Hunger
3. 1.000.000 Lightyears
4. Automatic
5. My Transition
6. Amaranthine
7. Rain
8. Call Out My Name
9. Enter The Maze
10. Director's Cut
11. Act Of Desperation
12. Serendipity
Hardrock Haven rating: 8.5/10