Girlschool | Hit and Run Revisited
by Justin Gaines
Staff Writer —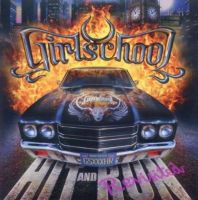 Pioneering all-female hard rock/heavy metal band (and New Wave of British Heavy Metal veterans) Girlschool delivered an unexpected release late last year in the form of Hit and Run Revisited. As you probably guessed from the title, Girlschool is marking the 30th anniversary of one of their best-known albums – 1981's Hit and Run – by completely rerecording that classic album.
Revisiting older material, especially albums that are rightly considered classics, is a tricky business. Girlschool isn't the same raw, hungry, young band they were thirty years ago, so some of the energy and spirit of the original Hit and Run album is impossible to replicate. What they have now is decades of experience under their belts and perhaps a desire to prove they've still got what it takes (as if their powerhouse 2008 album Legacy left any doubt). It's clear from the start that Girlschool hasn't lost any of their edge over the years. The original Hit and Run was a real kick in the teeth hard rock album, and if anything, Hit and Run Revisited sounds even heavier and harder-hitting. The band storms and stomps through these classic songs and sounds like they're having all the fun in the world doing so. That kind of thing is totally contagious, so just about every song will have you adding more volume and giving your speakers a workout.
Hit and Run Revisited also features a pair of bonus tracks. The first is a new version of the Demolition song "Demolition Boys," which, like the rest of the album is an energetic new take on an old song. The second is an alternate version of "Hit and Run" that features guest vocals by none other than Doro Pesch. This is a very cool touch, as it brings together two iconic female metal artists and rocks hard to boot.
While it probably doesn't quite make the leap into "essential" territory, Hit and Run Revisited has a lot going for it, and is not likely to disappoint longtime Girlschool fans. It's a fun and nostalgic detour, but now it is time for the band to deliver a proper follow-up to the excellent Legacy. They've obviously still got the talent and fire to deliver another knockout studio album.
Genre: Hard Rock, Heavy Metal
Band:
Kim McAuliffe (v) (g)
Enid Williams (v) (b)
Jackie Chambers (g) (v)
Denise Dufort (d)
Track Listing:
1. C'Mon Let's Go
2. The Hunter
3. (I'm Your) Victim
4. Kick It Down
5. Following the Crowd
6. Tush
7. Hit and Run
8. Watch Your Step
9. Back to Start
10. Yeah Right
11. Future Flash
12. Demolition Boys
13. Hit and Run (with Doro)
Label: UDR
Website: www.girlschool.co.uk
Hardrock Haven rating: 8/10