Golden Resurrection | Man With a Mission
by Nikiforos Skoumas
Staff Writer —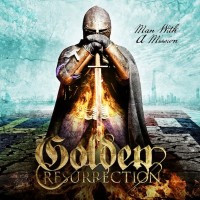 Swedish Christian neoclassical metal group Golden Resurrection are back with their second album Man With a Mission a follow up to Glory to My King of 2010. Golden Resurrection was put together by renowned Christian metal vocalist Christian Liljegren (founder and front-man of Narnia) and prodigal guitarist Tommy Johansson (of ReinXeed). The line up is completed by bassist Steven K., drummer Rickard Gustafsson and keyboardist Kenneth Lillqvist.
While their debut album was a perfect exercise in up-tempo, perfectly white neoclassical metal, Man With a Mission, incredibly, attempts to stretch the boundaries of neoclassical metal, putting theory into application from the very first song on the album. "Man with a Mission" is an orchestral opus directly influenced by '80s rock soundtracks. In particular the song is built on riffs and melodies found on the music piece "War" composed by Vince DiCola for the blockbuster film Rocky IV.
Though the rest of the album follows the stereotypical neoclassical form, for it biggest part, one clearly finds that Man with a Mission is a substantially '80s oriented album. The arrangements give a sense of fulfillment to the overall songwriting- between Tommy's neoclassical attack, Christian's rough-yet-melodic vocals, the essential keyboard harmonies and the up-front rhythm section there is nothing more to ask from a neoclassical album.
What differentiates Golden Resurrection from the majority of bands of the genre is their extra-clean approach in performance and album production? No unnecessary drop-tuning, just the right amount of distortion necessary and no one instrument undermining another. So we are looking at a pretty unique proposition in Baroque metal which often enters melodic hard rock territory while retaining a flavor and attitude of its own.
Taking one's though a step forward,- Is Golden Resurrection a band that the neoclassical genre needs or simply a quality but overall expendable outfit? At the risk of sounding philosophical, one finds that Golden Resurrection is an indispensable musical unit of the genre above all because of their optimistic message. It is almost impossible for an artist to retain their 'metal' identity when conveying an optimistic message; and yet that is what Golden Resurrection have achieved. It is not Christian preaching that they put across but the feeling of hope; at times Man With a Mission is indeed inspiring.
Genre: Neoclassical Metal, Pomp Hard Rock
Line up:
Christian Liljegren – Lead & backing vocals
Tommy ReinXeed – Guitars,vocals, keyboards & orchestration
Steven K – Bass & Backing vocals
Rickard Gustafsson – Drums & backing vocals
Kenneth Lillqvist – Keyboards & backing vocals
Track List:
1. The Light Overture
2. Man With A Mission
3. Identity In Christ
4. Golden Times
5. Finally Free
6. Generation Of The Brave
7. Standing On The Rock
8. Metal Opus 1 in C# Minor
9. Flaming Youth
10. Are You Ready For The Power
Label: Liljegren Records
Hardrock Haven rating: 9/10