by Trevor Portz
Staff Writer —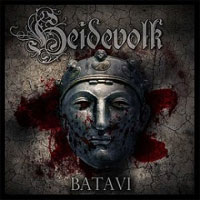 Grab your chain mail and turkey leg, Dutch folk metallers Heidevolk are back! Following their well-received third album, Uit Oude Grond, the band that proved twin, clean, male-lead vocals can be done in a very effective and metal way have delivered yet another fantastic piece of pagan head-bangery.
Keeping up the trademarks that made them worth listening to in the first place—folk melodies and the aforementioned harmony vocals, Batavi sees the band take on a much more epic approach. Mostly gone are the slower, three-quarter time grooves, replaced here with double-kick charged power metal. While this may throw off fans of the previous albums, it is a welcome change that only served to differentiate Heidevolk even more from bands of its ilk.
While the whole album is top notch, opener "Een Neiuw Begin," with its full-on power metal vibe and numerous tempo changes is particularly stellar. "Het verbond met Rome" boasts a rare Heidevolk blast beat, and instrumental "Veleda" is a well-placed, acoustic-driven folk interlude sure to please long-time fans of the band. Perhaps the only low point of the entire album rests in closer "Vrijgevochten," which is a bit boring and plodding, but this is far from enough to ruin the album as a whole.
In a very over-saturated pagan metal marketplace, Heidevolk are doing well to maintain their status as a band worth paying attention to. Unlike many of their contemporaries, the members of Heidevolk have managed to improve with each album and continue to be relevant. Go into Batavi with your sword held high.
Genre: Pagan, Folk Metal
Band:
Joris Boghtdrincker – vocals (2002–present)
Mark Bockting (Mark Splintervuyscht) – vocals (2005–present)
Reamon Bloem (Reamon Bomenbreker) – guitar (2005–present)
Rowan Middelwijk (Rowan Roodbaert) – bass guitar (2006–present)
Joost Westdijk (Joost den Vellenknotscher) – drums (2002–present)
Track Listing:
1. Een nieuw begin
2. De toekomst lonkt
3. Het verbond met Rome
4. Wapenbroeders
5. In het woud gezworen
6. Veleda
7. Als de dood weer naar ons lacht
8. Einde der zege
9. Vrijgevochten
Label: Napalm Records
Website: www.heidevolk.com

Hardrock Haven rating: 9.2/10