Iron Savior | The Landing
by Erik Tweedy
Staff Writer —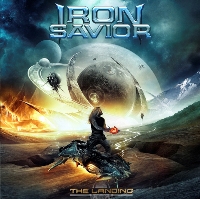 When you crack open the CD case from Iron Savior's seventh studio release, The Landing, don't be surprised when you find the record label has included your very own seat belt and crash helmet. The intro track "Descending" with its slow building symphonic momentum gives the listener about 30 seconds to sit down, strap in and prepare for a bone crushing ride through one of the best power metal releases to come out of Germany in a decade. With a gritty guitar intro, "The Savior" slowly introduces you to one of the best kept secrets in the metal world. Forming in 1996, Iron Savior has been flying under the metal radar and cranking out some seriously great metal and they are about to take the world by storm with The Landing.
The blazing speed of "Starlight" puts drummer, Thomas Nack, in the spotlight with a neck-breaking, double bass, beat down that is certain to get your heart pounding and your fist pumping. Be careful not to snap an ankle as you try and keep up with this one.
There are several tracks on The Landing that stick to a formula of speed metal drumming, crunchy guitar work interlaced with keyboards and a bruising bass line that compliments the gritty, heavy vocals of singer, Piet Sielck. Tracks like "March of Doom," "Moment in Time" and "Faster Than All" break out at full speed and never let up until you have smashed your balls flat against the wall.
By the time you make it through the first four tracks, you should have the volume cranked way past 11 and pissing off your neighbors. A solid bass line and crunchy riff slowly rolls into a kick-ass metal anthem that will have you shouting out the chorus to "Heavy Metal Never Dies." This is one of the best tracks on The Landing and it needs to be played at maximum volume over and over again.
Mid way through the release, the mid-tempo rocker, "Hall of Heroes," slows the pace down, but never derails this brilliant release. Many songs on The Landing showcase the soldier marching harmonies of this quartet and will remind some of fellow German band mates Accept, but that is where the similarities end. Iron Savior, successfully blends a progressive keyboard mix with full on power speed metal drumming and some pretty stellar guitar playing that lays the foundation for the baritone vocals of Piet Sielck.
Picking up the pace with "R.U. Ready," this massive arena rocker will have you busting out the devil horns. Paying homage to everyone from Hendrix, Zeppelin and Steppenwolf to Deep Purple, Judas Priest and Saxon, this track totally kicks ass. This will be the one to play as you head out for a solid night of partying. This is one of the best tracks of the year in the metal world and anyone into heavy metal needs to listen to this. Ronnie James Dio would have loved this track. Are you ready to rock?
Even kick ass metal bands have a soft spot and the lads from Iron Savior put their hearts on their sleeves with the enjoyable "Before The Pain". Nothing new lyrics wise as we've heard it all before, boy meets girl, shit happens, the girl bails and the boy laments over it. A solid way to wind down this release as you head into the final track of "No Guts, No Glory." "NGNG" is the most commercial sounding track with its driving beat, great backing vocals and superb guitar work. This should have you pushing the play button to start this ride over again from the top.
Clocking in at 47 minutes, The Landing is a progressive-power-speed-metal feast and Iron Savior has put together the best release in their 15 year career. There is nothing negative to say about The Landing and it will easily rise to the top of the pile in this genre in 2012. Not very often do you come across a release that is about as perfect as it gets. Fans of Pretty Maids, Hammerfall, Symphony X and Dragonforce will really enjoy this release. The production and mastering by Piet Sielck is great and give this release a huge sound. The guitars are right out front but never take away from the vocals or the rest of the band. If you are looking for a new release to get your blood pumping at a rapid pace, order this now, you won't be disappointed.
Genre: Progressive, Power, Speed Metal
Band:
Piet Sielck – Lead Vocals/Guitar
Joachim Kustner – Guitar
Jan-Soren Eckert – Bass
Thomas Nack – Drums
Track Listing:
1. Descending
2. The Savior
3. Starlight
4. March of Doom
5. Heavy Metal Never Dies
6. Moment In Time
7. Hall Of The Heroes
8. R.U. Ready
9. Faster Than All
10. Before The Pain
11. No Guts, No Glory
Label: AFM Records
Website: http://www.iron-savior.com/
Hardrock Haven rating: 9.4/110