by Alissa Ordabai
Staff Writer —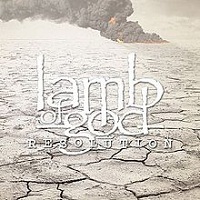 The creative method Lamb of God have been meticulously perfecting since 1999, has now reached its apex. The band has finally managed to distil all of its influences into one laconic formula, and tighten and tweak to exactness the way they present it. The end result is a vehement, roiling concoction of power groove, stoner rock, death metal and punk on the album with is both their personal benchmark and a new touchstone for metal. Resolution is a work of huge energy of conviction, and although the band – as ever – doesn't invent anything radically new, you'd be hard-pressed to find a more persuasive and concise exponent of metal as a genre on today's scene.
It would be interesting to see where Lamb of God go from here, now that they have seemingly reached the peak of the mountain they were climbing for 7 albums straight. It's hard to imagine what could beat this release in intensity and aplomb, but it would also be just as hard to imagine them going in a different direction. The three available options seem to be carrying on in the same vein trying to match what they have done on this album, putting their feet up, or taking a cardinally different stylistic path.
The band is tentatively tapping into ways to escape the monolith formula they have cemented on this release by introducing some darkly unsettling symphonic passages on some of the tracks, but don't show enough interest (or stamina) to explore this direction to the full. Although with guitarist Mark Morton being a blues enthusiast, there are many other interesting detours they could take outside of the genre of metal. The real question is whether they'd be willing to take a risk on their next album or will stick to the blueprint which lays golden eggs. A solid guitarist – as dynamic and convincing as the rest of the band – Morton could certainly develop further as a lead player by bringing in other influences into the band's format. As well as expand their stylistic terrain to make sure they avoid becoming frozen into a formula which from now on is in danger of becoming too familiar, if not predictable.
Genre: Metal
Line-up:
John Campbell – bass
Mark Morton – guitar
Chris Adler – drums
Randy Blythe – vocals
Willie Adler – guitar
Track Listing:
1. Straight for the Sun
2. Desolation
3. Ghost Walking
4. Guilty
5. The Undertow
6. The Number Six
7. Barbarosa
8. Invictus
9. Cheated
10. Insurrection
11. Terminally Unique
12. To the End
13. Visitation
14. King Me
Label: Epic, Roadrunner
Online: http://www.lamb-of-god.com/
Hardrock Haven rating: 8/10