Lana Lane | El Dorado Hotel
by Joe Mis
Staff Writer —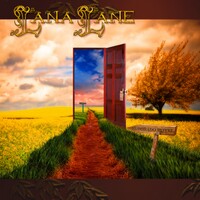 El Dorado Hotel marks the triumphant return of one of the most captivating voices of modern rock, Lana Lane. After a four-year break from the music scene, Lane has released an incredible album that proves to the world that "the queen of symphonic rock" hasn't lost a step. El Dorado Hotel mixes elements of jazz, rock and metal, along with a touch of the symphonic to create a sound instantly familiar and comfortable to her fans, yet manages to sound new and fresh at the same time.
As usual, California native Lane worked closely with well-regarded keyboard player (and husband) Erik Norlander, who also produced El Dorado Hotel. The teamwork between the two is superb and flawless, with Norlander's keys highlighting and complementing Lane's pure and powerful vocals. With a discography extending back to 1995, Lana Lane has never run out of ideas or fallen short on delivery. Her voice is as strong as ever, and her songwriting skills are finely developed. Lane's lyrical inspiration comes from many sources – everything from life on the road to mythology – and the song topics on this release are a bit more diverse than on her older albums. Norlander does a wonderful job on the keyboards and production, making the album a true treat for even the most jaded of ears. The pair has also managed to surround themselves with top-notch talent from across the rock world, including Racer X's Bruce Bouillet on guitars, and Asia's John Payne (mandolin, backing vocals) and Jay Schellen (drums).
The CD opens with "A Dream Full of Fire," a beautifully engineered progressive rocker with strong jazz and some near-flamenco overtones. This track shows the effortless vastness of Lane's dynamic and stylistic range, and proves that she is the talent that so many try to emulate. "Maybe We'll Meet Again" is a radio-friendly melodic rock piece with reflective lyrics and good performances from all. "El Dorado" has a definite Latin influence and features some smooth keys, excellent acoustic and electric guitars, neat percussion and a soaring, powerful chorus. "Darkness Falls" has definite goth metal influences, but quickly becomes a Celtic folk tinged track with a superb (and spooky) choral vocal line. The continuing swap between light and heavy makes this a memorable song. "Hotels" is a great acoustic piece with fine vocals, well-done pianos and numerous jazz influences, taking potshots at the musician's life on the road. This is truly a "singer's song," almost a vocal standard, and there are few active singers who could pull it off with such grace and sincere passion.
"Believe" is another smooth melodic rocker with a definite progressive rock / Asia feel to it. The one downer here is the totally unneeded "Black Eyed Peas" vocal manipulation of Lane's voice during some of the verses. This effect comes out of nowhere and startles the listener, distracting – to say the least. "Life of the Party" is almost an 80's hair-metal rocker, definitely upbeat and kicky. "Gone Are The Days" is another mid-tempo rocker focusing on memories and regrets. The vocal line is extremely smooth and the guitars are raucous and effective, and a simple spoken passage makes this track one of the strongest on the album. "Moon God" has much more "electro-pop" feel to the music with heavy synths and electronic trickery, and again the manipulations of Lane's voice during a few phrases of the chorus are jarring and unnecessary. It does have a slick guitar solo and some great bass work to make up for things. "In Exile" wraps the album, and can only be described as epic. Soft keyboards, amazing performances from all the players, and wonderful lyrics truly allow Lane's raw talents to shine. This is quite probably the strongest song she's ever recorded, and the 11 minute track seems much shorter.
Lana Lane is a pure singer who holds true to her strengths – she doesn't need to be gothic, operatic, angry, love-struck or angst-filled. She simply sings, and it is magic. Despite the strong symphonic rock overtones, El Dorado Hotel is filled with strong hints of jazz, swing, folk, classical, progressive rock and gothic rock. Fronted by Lane's ability to shift seamlessly from rock to jazz to folk, the many musical styles on this CD are a never-ending source of aural pleasure. Each and every track is filled with lush rhythms, soaring melodies, and strong harmonies, with nary a stinker in the bunch. The amazing depth of talent and musicianship is neatly tied up by Lane's superb vocals making this one of the first do-not-miss releases of the year. Very highly recommended!
Genre: Symphonic Rock
Band:
Lana Lane (vocals)
Erik Norlander (keyboards/synths, additional guitars, bass)
John Payne (harmony and choral vocals, mandolin)
Mark McCrite (guitars, bass, choral vocals, programming)
Bruce Bouillet (guitars)
Neil Citron (guitars)
Freddy DeMarco (guitars)
Guthrie Govan (guitars)
Don Schiff (NS/Stick)
Mark Matthews (bass)
Jay Schellen (drums)
Track Listing:
1. A Dream Full of Fire
2. Maybe We'll Meet Again
3. El Dorado
4. Darkness Falls
5. Hotels
6. Believe
7. Life Of The Party
8. Gone Are The Days
9. Moon God
10. In Exile
Label: Think Tank Media
Website: http://www.lanalane.com/
Hardrock Haven rating: 9.5/10