LIVE! | 70,000 Tons of Metal: Day 3
by Chris A.
Staff Writer –
A Trip to Hell: The 70,000 Tons Of Metal Day 3
The Cayman Islands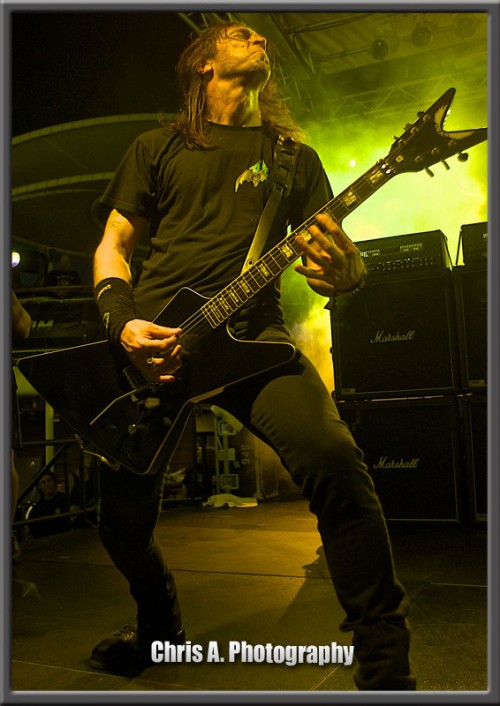 On Wednesday, the heavy metal sailors woke up to find the ship slipping into its anchoring position off the coast of the Grand Cayman Islands. Small tenders soon shuttled several hundred black-clad tourists from the ship to the docks, where we passed through an almost invisible customs inspection. On the island, the metal heads were greeted by an assortment of tours, food, shopping and activities.
During the six hours we had on shore, popular activities included taking tours, such as "Hell," a small town on the island that featured strange rock formations like demons from Hell. Our crowd fit right in, and Hell apparently was quite a popular destination. Also high on the list were the Rum Cake Factories. which offered generous samples of flavored rum and rum cakes. Before long, everyone on the island was smiling. For many, the only place to go was Seven Mile Beach, where you could hang out on the white sand or snorkel off the shores with stingrays. Others opted for a turtle hatchery, where sea turtles were hatched and eventually released into the Caribbean Sea.
Booze, food and jewelry also beckoned the visitors from more than 50 nations. With four cruise ships in the harbor, the long-haired, black-clad heavy metal sailors attracted great attention. Perhaps the image that best sums up the guests from the 70,000 Tons Of Metal Cruse to the Caymans is the photo of the young man on the beach, flashing metal in front of a "666" that was made out of rocks in the sugary-white, warm sand.
After a day on the island, it was party time on the boat. Bands took to the stages starting at 6 p.m. with Overkill performing on the pool stage, and the day closed out with Tankard at 4:45 a.m. The following day.
Day 3 bands included: Overkill, Pestilence, Stratovarius, Annihilator, Crowbar, Exciter, Nightwish, Children of Bodom, My Dying Bride, Vicious Rumors, Kamelot, Kataklysm, Moonsorrw, Samael and Tankard.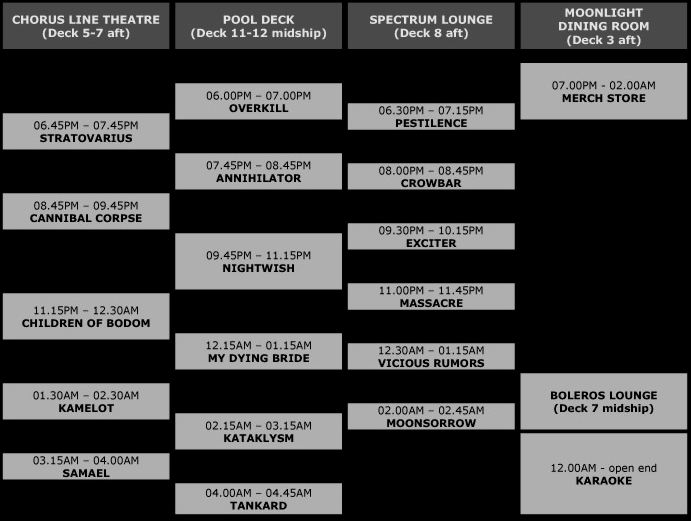 70,000 Tons of Metal Day 3 Photo Gallery
Photos Appear Courtesy of Chris A.