LIVE! | Hornet, Damn Dice & Western Sand
by David Cox
Guest Writer —
February 23, 2012 at THE INTREPID FOX, SOHO, UK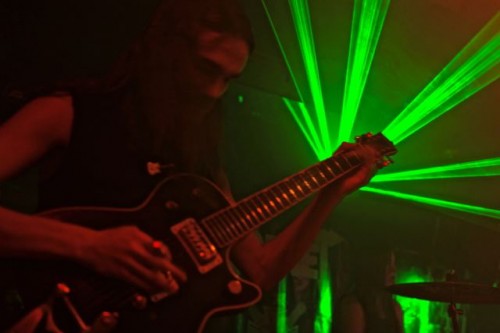 Until the other night I hadn't previously been to a SED Records UK gig at The Intrepid Fox, however I recently heard great things about their monthly live nights and thought it was about time that I attended. This gig had been covered by a ton of online websites, radio stations and I'd seen posters and flyers plastered all over London all stating that this night was set to be hot! So was it hot?
Well… I got myself down to the venue for around 7 o'clock and grabbed myself a drink downstairs with some friends getting ready for the music to start. I must say that I know Thursday nights get busy in Central London but not usually until 10pm. The Fox was already very busy with punters, about half an hour later a hoard of excited fans arrived all sporting black t-shirts with big bold yellow font across the front saying "Hornet" this was exciting to see as I had previously heard amazing things about this band from bar talk around Soho and Camden.
I ventured upstairs for roughly 8 o'clock when the doors opened to make sure I didn't miss any of the action, I grabbed another fresh pint of lager and got ready for the first band of the evening, Western Sand. Western Sand hit the stage at 8.30pm prompt (it's good to be at a gig where things run on time) and the band opened up with a crunching hard rock sound. I was made aware by the promoter that these guys had traveled from Bournemouth and had brought some home-town fans with them who cheered as they tore through their 70's sounding rock set. Lead singer Tyler Hains had a strong voice and his banter with the crowd between songs was well articulated. Drummer Nathan Kay kept things tight (in the vein of Airbourne's Ryan O'Keeffe) and with Findlay Hotchkiss rocking bass, it kept Western Sands overall sound very AC/DC, not that there is anything wrong with that! The lads played very well together and the songs were well received by the evening's ever growing crowd. My only real criticism is the bands look; I personally felt that only guitarist Jimmy Bradshaw had the look. Lead signer Tyler Hains looked like he was ready for a smart casual night out on the town not to play a rock 'n' roll show especially in Soho the London's heart of heavy rock and metal. But boys perfect your look and I think you will go far!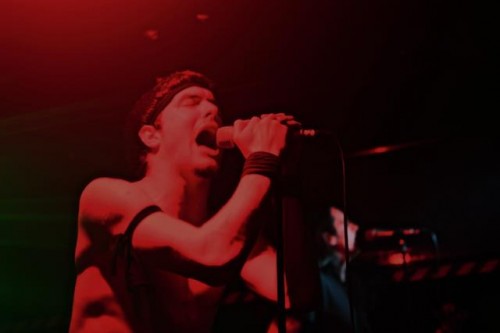 The atmosphere was getting lively in Soho's awesome Intrepid Fox. As bands switched over I got myself another pint, chatted to my mates and readied myself for the next band. Main support came from the outrageously dressed London glam rockers, Damn Dice. They hit things off with a bang and aptly named lead singer, Bobby Valentine had the girl's hearts racing and the guy's adrenaline pumping throughout a roller coaster ride of a set. The band had simple sing along songs with, as you would guess, some nice shredding guitar solos from guitarist Wallis. Sometimes people can't take glam rock seriously with bands like Steel Panther around but Damn Dice do it well… not too much cheese you know? And this is coming from someone who isn't into "glam rock" particularly. However an added tight performance from bassist, Marco and drummer, Fransoa mixed in with loads of charisma from the whole band made for a good show. If you are into dudes in make up such as Mötley Crüe, Poison and Reckless Love then you'll love these guys!
I personally would have omitted the cover of Ke$ha's 'Tik Tok' from the set though… I don't think it went down too well with the crowd but that aside they worked and rocked hard on stage. Keep going for it guys as I think you will go far!
By now the room was packed out and I mean packed… I would guess there was between 160-170+ excited people squashed into this intimate venue and it was getting hot, sweaty and sticky and the tension was building for the headliners.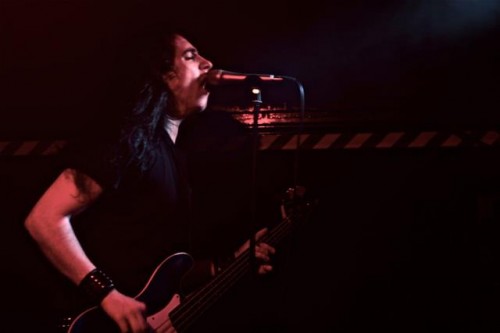 As Damn Dice left the stage and made way for Hornet the DJ span some classic rock tunes as the audience readied for Hornet. The lights hit as Hornet took to the stage. Vocalist/Frontman Joe Thompson said "Hello Soho, we are Hornet and we play rock 'n' roll" and the band quickly kicked into their first song "Down To The Bone" and what a fantastic riff this was with a dynamic verse climbing into an intense chorus of "Suck me dry, strip you bare, right down to the bone" all with sweet backing vocals to top it off. Things just got more exciting as Tollef Rikje-Pearson's insane guitar solo kicked in with Joe Thompson, Max Thompson and Tollef Rikje-Pearson all coming together to the front of the stage and rocking in unison to the pounding drum beat, after the building guitar solo we heard a "Metallica" styled breakdown with Bassist, Max Thompson and Guitarist Tollef Rikje-Pearson aiming and firing their instruments like guns towards the crowd which made for an epic opener as these were certainly on target tonight.
Hornet rocked so hard that before their third song the band was asked to tell the crowd to calm down due to the rabid crowd going too wild. However this didn't stop the crowd nor the band slowing down. The young lads ploughed through a couple more of their tracks (which were awesome) and then came the part which blew me away. I believe it was during a song called "Hunky Dorey" Frontman Joe Thompson put guitarist Tollef Rikje-Pearson on his shoulders and span him around whilst trawling through the rabid crowd; who at this point were screaming with excitement. After the climatic end to "Hunky Dorey" the band continued through the rest of their set. Whilst it was hot in the venue you could see the band sweating their nuts off with a pure passion to rock whilst there was a professional live video being recorded by Ignacio Crespo Valdez which I will be watching again to get my fix of Hornet before the March show.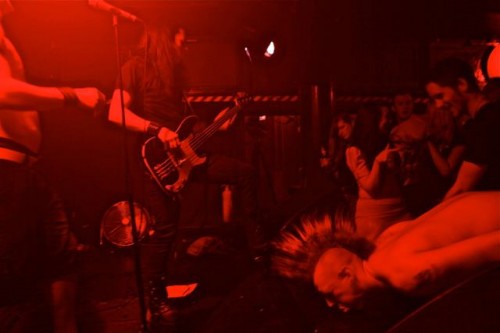 Hornet played a new song "I'm Gonna Be The Man" which went down a storm and their loyal fanbase were clearly hungry for the new material! Sadly after 45 minutes the set came to an end and when Vocalist Joe Thompson said "We've got one more for ya, but we're back next month, this is our last one it's called rock 'n' roll riot" I just knew things we're gonna go wild and boy did they, the crowd went into a wild frenzy which I have not seen at an upcoming band live show in years and one of the staff ran on stage and crowd surfed and was being thrown around the venue, it was chaos, I loved it!
After the end the band came to the front of the stage and bowed as the fans roared, cheered and begged for one more… did they play one more? Of course they did! The encore was "Bite Down" it was fast and people went mad one last time and all I can say is Hornet have it and were in full flight tonight! I don't think it will be long until they're touring major venues and record labels will be fighting to sign them.
Putting Hornet to one side, I must say all the bands tonight were absolutely bloody fantastic, and so was the venue and the bar staff, with an atmosphere that was just grand. It's great to see a decent promoter pushing real hard working bands in London so hats off to you mate, whoever you are. I for sure will be back at The Intrepid Fox on Thursday 29th March for some more and I hope you will be!