by Deb Rao
Staff Writer —
February 15, 2012 at The Joint, London in Las Vegas, NV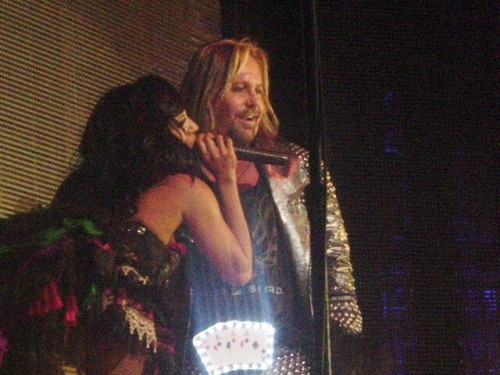 On Feb. 3, Las Vegas Mayor Carolyn Goodman declared it Motley Crue day. One of the most notorious bands in metal, they raised the bar high as metal's finest and just wrapped up a three-week residency at The Joint at the Hard Rock Cafe. Las Vegas may be known as the city of residencies with Celine Dion and Elton John, but no one can match the over the top musical reign that The Crue hosted. Complete with enough pyro, flash pods, video screens, midgets and dancing girls, Motley Crue lit up The Strip.
Opening with "Live Wire," Motley Crue performed all of the hits plus a few obscure tunes in a two hour power packed set. From the song "Wildside," to "Shout At the Devil," the magic of these timeless hits outshined the stage set. Vince Neil was in great voice and ready to rock his hometown Las Vegas crowd. The rhythm section of bassist Nikki Sixx and drummer Tommy Lee pummeled the driving hit songs. Only the Crue could perform a three-week residency without getting boring. Keeping it fresh and over the top, just as the fans that have been with the band from day one would expect.
What would Vegas be without a mock wedding? As a fake minister wed Vince to one of the dancing girls. Motley Crue then launched into an acoustic set with on a floating stage that had to be one of my favorite parts of the show. Nikki SIxx told the crowd, "The acoustic set was a first for the band. We want to portray the band as band of brothers who write songs in their living room." They performed three songs acoustically including, "Don't Go Away Mad", "Without You" and "On With The Show."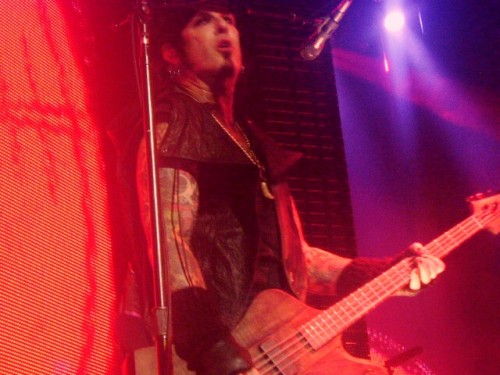 Nikki Sixx performed a riveting bass intro for "Primal Scream." Another highlight was Tommy Lee's drum solo in a 360-degree angle. Tommy also invited one fan to sit next to him and do the spin around in his daring drum solo. Motley Crue went back to their heyday with "Smokin' In The Boys Room." The audience was caught off guard during "Kickstart My Heart," as fake blood spiraled into the audience. Nikki Sixx became a blood spitting bassist. All in good fun of course.
Motley Crue ended the set with encore, "Home Sweet Home." As the floating piano descended onto the floor with Tommy Lee and Vince Neil glided through the crowd. It was a once in a lifetime chance to see Motley Crue up close and personal. Hopefully, Motley Crue will do another residency soon. The stars came out to shine, as Vinnie Paul of Hell Yeah was cited at the show I reviewed.
Many Thanks to Motley Crue, and their management at 10th Street for letting Hardrock Haven review the show.
Set List:
Live Wire
Wildside
Too Fast For Love
Saints Of Los Angeles
Shout At The Devil
Afraid
Same Ol' Situation
Without You
On With The Show
Don't Go Away Mad
Looks That Kill
Mick Guitar Solo
Piece Of Your Action
Primal Scream
Dr. Feelgood
Tommy Lee Drum Solo
Smokin' In The Boys Room
Girls, Girls.Girls
Kickstart My Heart
Encore
Home Sweet Home
Photos Appear Courtesy of Deb Rao