Nephelium | Coils of Entropy
by Cynthia Jo
Staff Writer —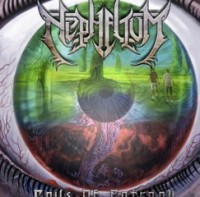 Originally hailing from the glorious land of Dubai and now residing in Toronto, the newly sought after band Nephelium has taken the ordinary grinding slashing guitars of heavily impacted death metal to deliver an ear shattering and mind blowing first full-length album and self-released, Coils of Entropy.
Right from the start, one will feel the nostalgic sense of early/old school death metal of monstrous drum fills combined with a smooth yet echoing bass lines and authentic throat ripping vocals by Devlin Anderson. Influences like Cannibal Corpse and Suffocation are clearly present, especially on the riffs. Nephelium represent an authentic sound of technical metal and Arabian melodies. The most important thing about this album that all listeners must know—compared to all death metal albums out now, Coils of Entropy is not repetitive or boring.
The Arabian melodies are represented on all six tracks but are outstanding in "Halls of Judgment" thanks to the masterpiece work of guitarists Alex Zubair and James Sawyer. The tempo alterations brought on by drummer Alan Madhayan brings back time with old school metal in "Hellborne" and "Malediction."
It's insane to know that Nephelium has been a band since the late '90s; they should've been discovered a while back. Coils of Entropy will definitely have your horns up high—a truly worthy band to check out.
Genre: Technical, Death Metal
Band:
Devlin
Flo
Alex
Alan
James
Track Listing:
1. Burial Ground (5:04)
2. Merciless Annihilation (6:17)
3. Hellborne (5:02)
4. Malediction (8:53)
5. Halls of Judgement (5:56)
6. Coils of Entropy (10:05)
Website: nephelium.bandcamp.com
Hardrock Haven Rating: 9/10