Orange Goblin | A Eulogy for the Damned
by Trevor Portz
Staff Writer —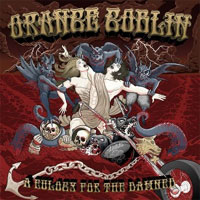 After a series of announcements that they might, wouldn't, may never, and ultimately would be releasing a new album, Brit stoner kings Orange Goblin are finally delivering their seventh opus, A Eulogy for the Damned.
Picking up where Healing Through Fire left off, A Eulogy… continues Orange Goblin's surreal journey through time and space, yet manages to do so in a very accessible way. While the band is still appropriately deemed stoner rock, they tend to avoid long, drawn-out space jams and psychedelic head-spins. Instead, A Eulogy… is melodic hard rock played through a stoner rock filter. A bit more fuzz and de-tuning, sure, but it's still solidly uptempo hard rock.
Standout tracks here include "Stand for Something," with a very melodic and catchy chorus that's somewhat reminiscent of early Stone Temple Pilots, "Save Me From Myself," which features slide guitar and wouldn't have been out of place on the Black Crowes' Southern Harmony… record, and "Acid Trial," with a riff that wouldn't seem out of place on a power metal album. But while influences (admitted or not) can be found throughout the album, Orange Goblin successfully doses them with enough sludge and heaviness to make every song their own.
A Eulogy for the Damned is not only a great Orange Goblin record, but also a great jumping-on point for potential fans of the band and stoner scene in general. While they may not dissolve too far into the tripped-out ether that some of their contemporaries often do, they, along with Fu Manchu, Electric Wizard and numerous others, help to fill the void that the original Kyuss left when they split over 15 years ago. It seems the heir to the desert rock kingdom may In fact be from rainy ol' England.
Genre: Stoner / Desert / Fuzz Rock
Band:
Ben Ward (v,g)
Joe Hoare (g)
Martyn Millard (b)
Chris Turner (d)
Track Listing:
1. Red Tide Rising
2. Stand for Something
3. Acid Trial
4. The Filthy and the Few
5. Save Me From Myself
6. The Fog
7. Return to Mars
8. Death of Aquarius
9. Bishop's Wolf
10. A Eulogy to the Damned
Label: Candlelight Records
Website: www.myspace.com/theorangegoblin
Hardrock Haven rating: 9.1/10