Persona Non Grata | Quantum Leap
by Justin Gaines
Staff Writer —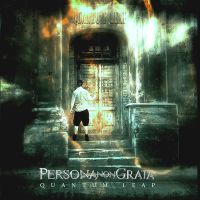 Quantum Leap is the second album from Greek progressive metal band Persona Non Grata. When the band debuted with 2009's Shade in the Light, they were clearly operating from the Dream Theater/Fates Warning playbook, and that's true of this album as well. You may occasionally detect a darker tone a la Evergrey or a quirky passage reminiscent of Pain of Salvation, but Quantum Leap is for the most part a fairly traditional progressive metal album.
It seems weird that the first thing that jumps out at you when listening to this technical and progressive album is the vocal performance, but it's true. Aris Pirris has a great range, and he uses every bit of it here to great effect and conveys a wide array of emotions. Musically, there's a lot to take in. Quantum Leap is a pretty melodic and cohesive album, so you don't always notice how dazzling the instrumentation is at first, but after a couple spins the intricate keyboard and guitar solos in particular really stand out, as do the complex – but never needlessly so – rhythms.
Quantum Leap may be a fairly standard progressive metal album, but you have to give Persona Non Grata credit for never getting too carried away with technical wankery and keeping the songs between 5-7 minutes in length. They never give you a reason to tune out, and that can make all the difference sometimes.
They may not be re-writing the progressive metal rulebook, but Persona Non Grata is still really good at what they do. If you're looking for the more adventurous, truly progressive stuff along the lines of Leprous, Haken or Pain of Salvation, this isn't it. Traditional progressive metal fans – especially those into Redemption, Zero Hour, Illusion Suite, Pathosray and the like – should find a lot to enjoy in Quantum Leap.
Genre: Progressive Metal
Band:
Akis Gavalas (d)
Chris Gatsos (g)
John Ioannidis (k)
Aris Pirris (v)
Chris Vogiatzis (b)
Track Listing:
1. Imaginative Mind
2. Lend a Hand
3. Evil Feelings
4. 9AM News
5. Redemption of Sins
6. Captive
7. Grief
8. Diversity
9. Internia
10. Journey Ends
11. Journey's End
Label: Massacre Records
Website: www.personanongrata.info
Hardrock Haven rating: 7.75/10