Rhope | Turning Maybes Into Reality
by Joe Mis
Staff Writer —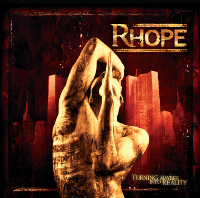 Turning Maybes Into Reality is the debut release from Italian groove metal band Rhope, and this CD is definitely not a "maybe." The Milan-based quartet delivers heavy and intense music combining elements of groove metal, metal-core, thrash and pure heavy metal with enthusiasm, style and an overwhelming sense of melody.
Rhope's songs are an interesting mix of tempos and styles, and their vocals vary from clean to growls. The twin vocal attack of Giammi Giuliani (clean) and Diego Minach (growls/screams) is used effectively without being overdone, and the pair rips out a number of fine harmonies throughout the album. Giuliani's voice is well suited to the genre, and he is able to vary his tone from grinding and harsh to soft and melodic. He sings with fire, and that more than makes up for a somewhat limited range. Diego Minach's growls are generally understandable and integral to the songs, and his guitar work is very good – particularly as a rhythm player. Paolo Minach is a fine bass player, and he is given the chance to stand tall on a number of occasions and he delivers some intricate bass riffs and fills. Giovanni Tani is a solid drummer as well, and ranges from subtle and simple to totally manic while always complementing the music. The members of Rhope function well as a unit, surprisingly well for a new band.
Musical highlights include: the heavy opening track "Slaves" which shows the band at its strongest and fully firing on all cylinders; the booming bass, drum and guitar opening and neatly done clean vocals of "Parallel;" the great lyrics and interplay between Giammi Giuliani and Diego Minach on the epic "False Needs;" the gloomy atmosphere of "Your Peace" and 180-degree turnaround to an upbeat groove on the following track "Comedown;" the amazingly funky bass work of Paolo Minach on "Entropy of Brain" and the great vocal back-and-forth on "Cut The Pressure."
A few lows are the somewhat disjointed sound of "Into The Box" and "Truth Lies," and "Lust," which doesn't seem to know where it starts or where it needs to go. Again, the highs far outnumber the lows – you can attribute these off moments to the youth of the band.
Solid mastering by Tom Baker (Deftones, Nine Inch Nails, Marilyn Manson, Rob Zombie, Sevendust) helps to give Rhope a mature and consistent sound from track to track – an unexpected plus for a debut release. Despite a few rough spots when transitioning between the harsh and melodic elements, for the most part the blend of styles works well, as does the vocal teamwork of Giuliani and Minach. Rhope performs well and with great enthusiasm.
If you are into groove metal, thrash or metal-core, you'll find a lot to appreciate here. While the band's songwriting is a bit inconsistent due to the collision of melodic and harder styles, there are many more positives than negatives. A bit of seasoning will only make Rhope a better act, and with a touch more experiences they will definitely Turning Maybes Into Reality, and turning some heads at the same time.
Definitely recommended.
Genre: Groove Metal
Band:
Diego Minach (vocal growls, guitars)
Giammi Giuliani (lead vocals)
Paolo Minach (bass)
Giovanni Tani (drums)
Track Listing:
1. Slaves
2. Into The Box
3. Parallel
4. False Needs
5. Lust
6. Your Peace
7. Comedown
8. Truth Lies
9. Extinction Is Forever
10. Entropy Of Brain
11. Cut The Pressure
12. Now
Label: Bakerteam Records
Website: http://www.rhope.it, http://www.myspace.com/rhopeband
Hardrock Haven rating: 8/10